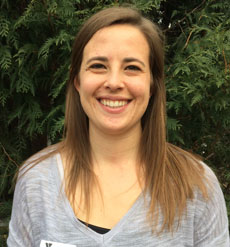 Meet Abby Lukensmeyer!
My career with the YMCA started in 2016 when I was given the opportunity to be the Assistant Director of the YMCA of the Rockies Day Camp, nestled right next to the immaculate Rocky Mountain National Park.  My love for camping, nature, and personal development started at a young age, however, when my family would take frequent trips exploring the outdoors, camping, and traveling the world.  It became clear to me through those experiences that few things are more transformative for people of all ages than intentional time spent in nature!
Following graduation from Central College in Pella, Iowa with BA degrees in Psychology and Spanish, I moved to the North Woods of Maine to work as a canoeing and backpacking wilderness trip leader at Chewonki Camp for Girls.  After a few seasons of trip leading and working as an outdoor education instructor for Chewonki, I found myself back in Iowa where I worked as a volunteer manager with the Girl Scouts as well as serving as camp nurse during the summer at one of their residential camps.  I also enjoyed working as a substitute in my home state of Iowa for several years, getting the opportunity to teach on a fulltime basis with kids in grades K-12.
I am beyond excited and grateful to be a part of the Camp St. Croix and Camp Kumalya teams.  It is a great blessing to work for an organization with such passion, commitment to excellence, and love for people and the outdoors, and I look forward to serving the communities around us.
Feel free to contact me anytime with questions regarding Camp Kumalya by email or at 651-747-0911.