Our program offers a range of formats to let kids choose their level of involvement in a particular sport. Each format is designed to deliver a valuable set of core skills and experiences.
Classes (Age 3 through Grade 8)
Kids will meet weekly to develop their skills through a variety of age appropriate skill drills and team-building exercises. The eight-week session kicks off with a focus on skill development and advances to teamwork concepts which may include light scrimmaging and positive competition. Trained YMCA staff leads each class with help from qualified volunteers. At the end of the eight-week session, each age level will have acquired specific skill outcomes needed to advance to the next level of skill development.
Leagues (Grades 2-8)
Leagues let kids take their skills to the next level and experience positive competition. Age-based offerings vary by session and by sport. Leagues consist of organized practices and team contests with coaches and officials. The first two weeks focus on skill development practice and teamwork, while the remaining weeks introduce scored games and meets along with continued practice. At the end of each session a tournament or all city Track & Field meet will be held. Leagues guarantee a minimum of 8 practices and 6 games throughout the session.
Note: a structured game or meet schedule will be developed and issued the first week of each session.
We are improving our look in YMCA Youth Sports! Purchase one of our new, reversible jerseys at your local Y branch, at a cost of $15. Players are required to wear our new jerseys to participate in any YMCA league starting August 14 for Session 4.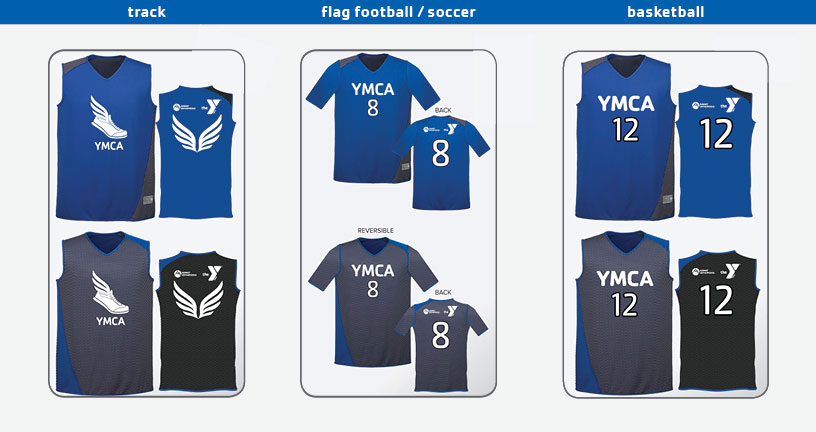 Leagues give teens a chance to play a team sport at the Y. Available sports vary by location and session.
School's Out Camps
Kids can enjoy a three-hour sports camp on school release days and breaks. School's Out sports camps include learning skills and playing games in a safe environment.
Summer Sports
Kids who participate in week-long Summer Sports at the Y discover so much more than their athletic abilities. They build character, develop self-confidence and create healthy relationships through positive competition. Kids of all skill levels and abilities can choose from a variety of sports to explore this summer.
Contact your local Y for clinic activity schedules.
Sports vary by location and time of year
Discover available sports at your preferred YMCA location: