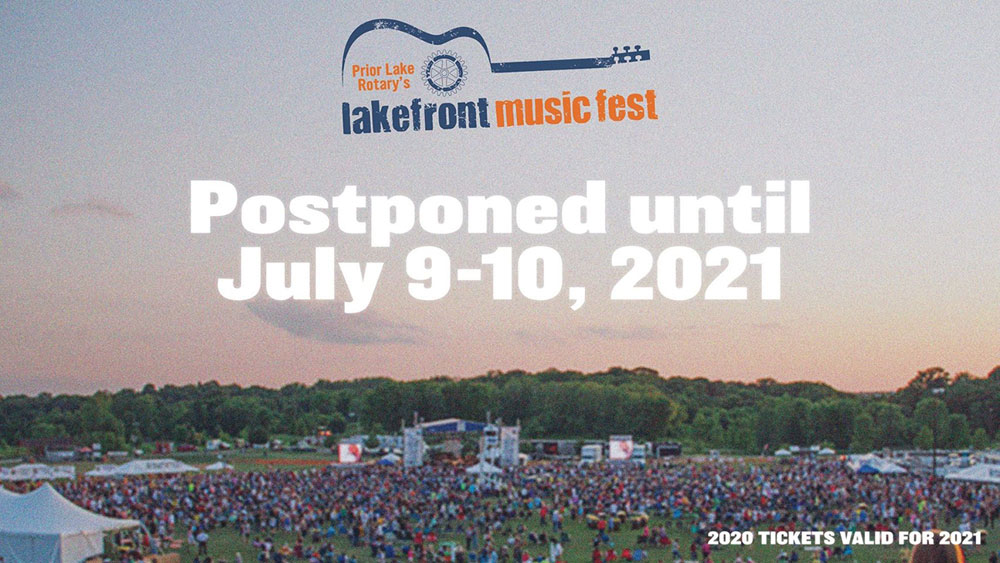 2020 Lakefront Music Fest Postponed until July 9-10, 2021
Due to the COVID-19 pandemic the organizers of the Prior Lake Rotary's Lakefront Music Fest have made the difficult decision to postpone the event until July 9-10, 2021. After closely monitoring the pandemic following guidelines set by local and federal agencies, and more importantly for the safety of our fans, volunteers, sponsors and artists, the organizers are confident this is the right decision.
All tickets purchased for this year's event will be transferred and valid for the 2021 dates. Ticket purchasers will receive an email from Lakefront Music Fest with instructions and details within 10 days. Lakefront Music Fest is working hard to secure as many of the 2020 artists as possible for the 2021 event but cannot guarantee the same lineup. Artists for 2021 will be announced as they are confirmed. Organizers ask for patience during this difficult time for everyone.
"We are obviously very saddened to announce the postponement of 2020 Lakefront Music Fest," said Michelle Jirik, Co-Chair of the event. "Given the fact that our event gathers nearly 35,000 fans and we have hundreds of volunteers and production staff, it's absolutely the right thing to do. Making our decision even more difficult is knowing our non-profit groups rely heavily on the funds shared from our event and knowing our community businesses are affected by this postponement. We thank everyone in advance for their understanding."
The Prior Lake Rotary Club produces the event and 100% of the profits are used to fund charitable causes both locally and around the world. Ticket sales from the festival are shared with non-profit organizations including YMCA of the Greater Twin Cities, and Prior Lake-Savage Area Schools': Laker Athletic Booster Club (LABC), Patrons of the Arts and Activities (PAA) and Parents, Teachers and Children (PTC).
All updates and important information will be shared on Lakefront Music Fest's website (www.lakefrontmusicfest.com) and Facebook page. Reminder, ticket purchasers will be receiving an additional email within 10 days.
The organizers of Lakefront Music Fest extend their thanks for understanding and continued support of the event and look forward to seeing everyone July 9th and 10th 2021.