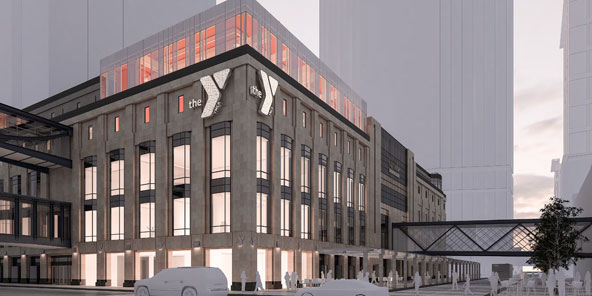 A new, state-of-the-art Minneapolis Downtown Y will open in early 2018 at the Gaviidae building at Sixth Street and Nicollet Mall.
View a comparison of amenities between our current location and the new location.
View frequently asked questions about our new locations.
View floor plans of our new space.
No interruption in service
Until the new Y opens, you can keep using the current Minneapolis Downtown Y without interruption. There won't be any construction for you to deal with, and the current location will be fully operational until the new Y opens.
Current members won't need to do anything special to use the new Y—you'll just need to shift your Y visits by a few blocks.
A groundbreaking space
The new building is designed to better serve our vibrant and dynamic community. As a first of its kind in the country, the Minneapolis Downtown Y will be a place to try out new ideas for Ys of the future, like:
Virtual reality strength and cardio classes
Fitness studios that have immersive music and visual experiences
Digital tools—like the mobile app and Matrix machines to help you make the most of your workouts
Social responsibility hub—a gathering and learning space to collaboratively explore solutions to social issues, innovation in whole-life wellbeing and entrepreneurial development for social good
Other exciting features include:
Heated yoga studio
Turf area for training and conditioning
Holistic health center
Rooftop walking and dining area
How the locations stack up
The current and new locations:
Are centrally located in downtown Minneapolis
Are about the same size
Offer fitness equipment and classes, Personal Training and Swim Lessons
Have an indoor pool, sauna, whirlpool gym and locker rooms
To make room for some of the exciting features, the new Y won't have all the same amenities found at the current Y. The new pool will be smaller at the new location, and there won't be an indoor track, steam room or racquetball courts.
Stay connected and informed