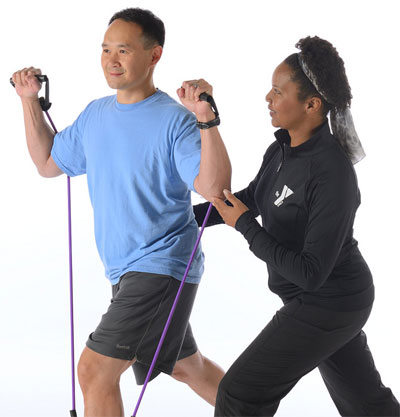 The YMCA of the Greater Twin Cities (YGTC), a leading nonprofit dedicated to strengthening communities through youth development, healthy living and social responsibility, offers tailored fitness programs that help people achieve a balance of spirit, mind and body.
The state of an unhealthy America is causing rising rates of chronic disease (diabetes) and obesity (child and adult). Many people of all ages are turning to tailored fitness programs to tackle unhealthy lifestyles and gain support for healthy eating, physical activity and socialization.
"The Y understands that fitness programs need to be tailored to meet the needs of busy people dealing with life's daily demands," said Jennifer Menk, senior director of fitness at the YGTC. "Whether a person is a time-crunched fitness enthusiast or a person with special medical needs, the Y offers trainers and programs to improve their health and well-being while participating in their favorite program or activity."
Menk added there has been an increase in people using personal trainers. She explained the benefits of working with a personal trainer include:
Improve Overall Fitness. The primary reason people hire personal trainers is to get professional assistance to improve cardiovascular health, strength, flexibility, endurance, posture, balance and coordination. A personal trainer will monitor progress and fine-tune programs, inspiring people to work their way off plateaus and toward goals.
Reach or Maintain a Healthy Weight. Reducing body fat and inches or maintaining weight and muscle can all be achieved with the help of a qualified personal trainer, who can help set realistic goals and determine safe strategies, all while providing the encouragement people need.
Focus on Unique Health Concerns. Y-certified personal trainers can address special medical needs, such as arthritis, diabetes, osteoporosis or obesity. They can also help with low-back pain, rehabilitation from injury and pre/postnatal training. A personal trainer can work with a person's physician, physical therapist or other health care provider to plan a safe, efficient program that will speed recovery or enable reaching health goals.
Enhance Overall Well-Being. A personal trainer can help people realize whole life well-being by dedicating time to learn about healthy ways to reduce health risk factors such as high blood pressure, cholesterol or body fat. With the right workout, people can also boost metabolism and bone density and significantly improve quality of life and self-esteem. Whether a person's workout is proactive to avoid illness or to combat existing conditions, understanding what's going on inside a person's body and identifying factors that could impact the ability to be his/her best, personal training can help teach the right things to do to see results —and maintain them.
Along with understanding the benefits of a person trainer, the Y recommends that people choose the right trainer by:
Specialties: Finding a trainer experienced in specific areas of need is important to ensure goals are met in a safe, healthy way. Y trainers have specialties including weight management, arthritis and orthopedic support.
Personality: Personal trainers have a variety of approaches, and having an effective coaching style will make sessions enjoyable and fruitful. A person wants to feel comfortable and trust that a trainer has his/her best interest in mind.
Education: All YMCA trainers have a nationally accredited Personal Training Certification. Some trainers hold more than one certification and many also have completed a bachelor's or master's degree in exercise. Biographies on each of the Y trainers is available online or in the Y branches to help people identify the trainer background best suited to their goals.
Availability: YMCA trainers do their best to accommodate client schedules by discussing best times and days for a person to complete a workout on a regular basis.
In addition to the choice in trainer, people also can choose the personal training format that works best for them, based on their goals. The Y offers:
One-on-One Personal Training—just the person, the trainer, and his/her personalized program.
Buddy Training—customized training in groups of two or three people.
Group Training—trainer-led group classes for four to eight participants run in scheduled seven-week sessions.
Flex Training—just like group training, except a person determines the start date, duration and participants.
Listen to Erica's Story and Mary's Story and discover how a tailored fitness program has made a positive impact on their lives.

As a leading nonprofit committed to healthy living, financial assistance is available to those in need to ensure everyone has a healthy lifestyle. Learn more about the YGTC's fitness programs.