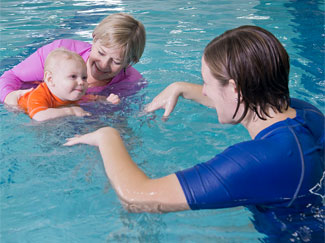 The YMCA of the Greater Twin Cities (YGTC), a leading nonprofit dedicated to strengthening communities through youth development, healthy living and social responsibility, offers the Safety Around Water program to engage and educate parents about the importance of water safety skills and provide more of America's youth access to water safety lessons. The program will focus on reaching African American, Hispanic, Hmong, East African and Native American communities where risk of drowning among children is highest.
According to data from the USA Swimming Foundation, 70 percent of African American and 60 percent of Hispanic children cannot swim, compared to just 40 percent of Caucasian children. While fatal drowning is a concern for all children – it's the second-leading cause of unintentional injury-related death for children ages one to 14 years old – African American children ages 5 to 14 are three times more likely to drown than their white counterparts.
Through the Y's Safety Around Water program, parents and caregivers will be encouraged to help their children learn fundamental water safety and swimming skills. Children will learn how to respond if they find themselves in unexpected water situations -- from how to reach the water's surface if they submerge to safely reaching a pool's edge or exiting any body of water.  
"In many underserved communities, staying safe around water means keeping kids away from water, but water safety and swimming are important life skills in the growth and development of all children," said Lindsay Mondick, director of aquatics at YGTC. "All children deserve access to water safety resources that not only could save their lives, but enrich them with an outlet for fun, healthy activity." 
Mondick adds the Y's Safety Around Water program teaches children of all ages and from all backgrounds that water should be fun, not feared. The Y teaches fundamental water safety skills that include the concepts of reach, throw, don't go; CPR and what to look for in a safe place to swim. 
Kids learn what to do if they find themselves in the water unexpectedly:
Jump, Push, Turn and Grab – teaches a child to push off the bottom of the pool as they are submerging to get back up to the surface while turning to grab the side of the pool.
Swim, Float, Swim – teaches children to swim a short distance on their front, roll over on their back to rest, and then roll on their front to continue swimming to safety
Through the Safety Around Water program, the Y hopes to further bridge cultural and access gaps that can prevent some children from learning important water safety skills. Listen to these stories and discover how local youth learned life-saving water safety skills in the program: 
The YMCA introduced the concept of group swim lessons in 1909 and has been a leader in providing swim lessons and water safety for more than 100 years.  The Y helps youth and adults from all backgrounds experience the joy and benefits of swimming so they can be healthy, confident and secure in the water. There are a variety of programs to choose, including child and adult swim lessons, competitive swimming teams, water exercise and specialty classes, and lifeguard certification training. To ensure that everyone has an opportunity to participate, financial assistance is available to those in need to help cover the costs.
Learn more about swimming and water safety classes, and lifeguard certification.