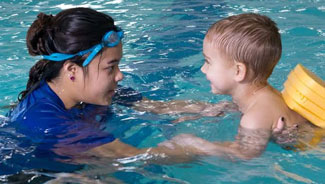 The Y has a rich heritage in aquatics and swim education.
The Y dedicated the world's first indoor pool in 1885, developed the first mass swim lesson in 1907 and introduced SCUBA training and certification in 1959.
We've been committed to providing safe, fun and innovative facilities and programs for swimmers for over a 100 years.
Yet each year, about 1,150 children nationwide drown and another 5,000 under the age of 14 are hospitalized due to near-drownings.
This issue is exacerbated in Minnesota.
First, we have a whole lot of water in our state, including what's called "brown water," which is opaque. If a child falls into a lake and struggles, it's difficult for someone to even know.
Second, we've seen this amazing transformation in our community, with newcomer populations finding themselves throughout Minnesota. Many of them are encountering water – much less brown water – for the first time.
According to the Centers for Disease Control, the people most at risk of drowning are males, children between the ages of 1 and 4, and minorities.
In recent years, we've had several drownings in the Twin Cities. And recently, two brothers, both under the age of 10, were rescued from an abandoned swimming pool outside an apartment building in St. Paul. The older brother is expected to survive, but his younger brother was in critical condition, according to the St. Paul Pioneer Press.
Quite frankly, it shouldn't be a problem.
We know what kids need. Whether budgets get in the way, or school curriculum has moved away from water instruction – based on budgets, time or facilities – we have to find ways to get our kids immersed in water and how to be safe in it.
According to the American Academy of Pediatrics, swim safety lessons can reduce the risk of drowning by 88 percent. At the Y, swimming programs nationwide are available year-round for infants, children and adults. 
Thanks to Hawkins Inc., the Twin Cities YMCA is able to offer kids ages 5 to 14 free water safety instruction. This includes five, 40-minute water safety sessions led by YMCA-certified aquatics instructors. These are not traditional or comprehensive "swim lessons."
The main focus of the instruction is simple: we want to educate youth on how to stay safe around water.
As we're entering the time to explore the outdoors, kids are going to be finding their way to water. Parents and caregivers need to know that the Y is in a position to ensure any kid that wants to will get the instruction they need to be safe around the water.
To learn more, contact us.