On my way to visit Minnetonka Heights last year, it's hard to ignore what's literally on the other side of Minnesota State Highway 101.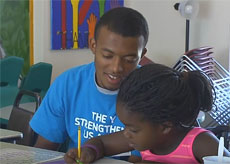 Million-dollar homes.
Children on that side of the road in Minnetonka are provided an abundance of activities, programs and tutors. Children on the other side of the road, in the low-income apartment complex, don't have access to the same options and opportunities.
That's why I'm proud of the enrichment opportunities we're providing at low-income apartment complexes in the Twin Cities.
Before and after school, many students in low-income households have nowhere to go, which increases the risk of falling behind, both intellectually and socially.
At Minnetonka Heights, Joanne Robinson, our program director, convinced the owner of the property to turn an unused room into an active, vibrant community space, where kids come in before and after school. They read for 30 minutes, do arts and crafts, play sports and games. But, most importantly, they get tutoring support, specific to their individual need.
During the summer, this helps the students avoid learning loss. During the school year, this helps them stay with the pack and, in fact, thrive and excel.
Caring adults, some of whom live in the apartment complex, invest in these children.
It's a very resourceful approach.
Ionna, 13, is an example of this unique program's impact at another low-income apartment complex called Maple Pond Homes. Initially, she was shy and angry.
"I didn't really care about my grades when I was younger," Ionna says. "They helped me a lot. It improved my grades."
She shows her big, beautiful smile.
"She has done a full 360," reports Amber Woitalla, the Y youth development director.
Adds Ionna, "It made me a better person."
Imagine what might have happened to Ionna if she wasn't busy realizing her potential.
William Moore, a Y youth support specialist, has seen confidence build in Doreon, 10.
"Doreon has high potential, and we want to help him realize that potential," William says. "By providing different opportunities, it awakens the hunger inside them to want to do more, to want to see more and be more."
Curt Carpenter is the principal at Clear Springs Elementary, just a few blocks from Minnetonka Heights, and he's seen the impact our program has on students who live in that complex. "The partnership between the YMCA and Minnetonka Heights has been integral to success of our students," Curt says. "No doubt in my mind that our students are more successful academically thanks to the program."
When I was at Minnetonka Heights, I was struck by the affection that our team members and volunteers have for the students. It's clearly a safe place for the kids. They have access to snacks and fruits, music and lots of enriching activities.
You can feel the children each realizing: "I matter, I can contribute and learn, and I belong."
The Y currently serves 200 students in the after school enrichment program at apartment complexes. But there's an estimated 200,000 students in kindergarten through 12th grade who do not have a safe place to go after school ends.
We want to continue to expand this program so we can reach more and more students, and ensure they have a safe place to learn, play and, ultimately, thrive.