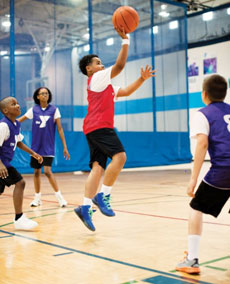 Students who play sports through high school are more likely than non-athletes to attend and graduate from college, according to the U.S. Department of Education. You have proof points that say, "it works" because caring adults engage with youth, empower them to lead and show them how to win with dignity and lose with grace.
But we're seeing a reduction in the number of kids who are participating, especially students who qualify for free or reduced-price lunches.
"YMCA sports are built on the idea that everyone has an opportunity to play," said Thomas Chatman (T.C.), athletic director for the YMCA of the Greater Twin Cities.  "Sports are all about building positive relationships and participating in your community. Our athletes come from all backgrounds to unite as a team and develop lifelong friendships."
As humans, we're predisposed to try and find homogeny, to gravitate toward folks who look like us and act like us. And with the current immigration debate, it would be natural for kids, by virtue of what they learn from adults, to look at differences. We're seeing kids building walls with toys and saying certain kids can't come in.
That's why diversity and inclusion are particularly important to the Y because all of our children, no matter where they come from, are growing up in a more diverse world. Our intentionality allows kids to see the good in everyone, to embrace differences, then take that inclusive mindset wherever they go.
Let's be clear: It's not about our children being color blind. But it is about kids recognizing the differences and embracing and celebrating them. It's not just their time on the court but really also being in community off of it. Seeing that their friend's mom dresses differently, or serves different food during lunch at the tournament. They're able to see their friends through a more diverse and broad-based lens.
Perhaps, when they get through these Y sports experiences, they're not so hungry for homogeny but rather the richness of what diversity brings for them.
What T.C., and his team are doing is really so far beyond youth sports. They are loving these kids, giving them opportunities, showing them what it means to be a servant leader. They are removing barriers, be it through scholarship or transportation, or through mentorship, so these youth — all of them — can thrive and grow.
The other thing that I dearly love about his team: They bring so much energy! It's infectious. Kids can't help but smile around these leaders, and laugh and leave fulfilled.
We don't have enough of that right now. We're running around, with too much emphasis on leaping forward and making progress.
But in little ways and huge ways, this team is doing amazing work.
They have re-launched youth sports at the Y, with much greater focus on values, more focus on the opportunity for every child, a competitive environment, but not a 'Win at all costs' environment.  Programs are offered in flag football, basketball, track and field, aquatics and soccer, just to name a few.
They're meeting kids where they are.
They're programming on a continuum that allows for growth, year over year. For the first time in a while, our Y teams can now compete in regional tournaments. That is all T.C. and his team.
There's definitely a countercultural opportunity here, that has been challenging because we either have the, 'Everyone gets a ribbon,' all the way to cutting kids and yelling at kids because we're obsessed with competing, winning.
The Y doesn't want to be in either place, frankly. We want kids to understand there are winners and losers, just like in life. But we want a spirit of healthy competition. We do this within our value set, within a character-based approach.
I think young Elijah featured in this video provided perspective: YMCA Youth Sports: Everyone Plays.
"We get to travel to different Ys that I've never been to," he said. "It's a fun experience."
If we continue to serve our youth with the right values-oriented and inclusive framework, as T.C. and team are doing every day, we will produce plenty of winners.  For life.  For good.