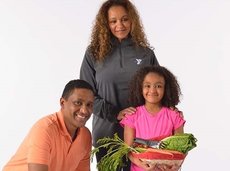 According to the Institute of Medicine, nearly one in three children in the United States are overweight or obese.
Studies show that children who are obese have poorer school attendance and academic outcomes than their peers.
According to Wilder Research, more than 90 percent of participants in the YMCA Healthy Kids initiative improved or maintained healthy nutrition and eating practices, and 86 percent improved or maintained healthy habits in at least one area of physical fitness.
The YMCA of the Greater Twin Cities, a leading nonprofit dedicated to strengthening communities through youth development, healthy living and social responsibility, empowers kids and teens to make healthy choices by offering programs that make fitness and nutrition fun.
Studies show that obesity is one of the most serious public health concerns facing Minnesota. Children who are obese often perform more poorly academically than their peers. To help energize kids to form healthy habits, the Y integrates physical activity and nutrition education into its after school programs in the community, including the School Success program in St. Paul that delivers educational and enrichment activities free of charge to students.
"The YMCA Healthy Kids Initiative in partnership with Target Corporation and UnitedHealth Foundation allows us to get outside our four walls and engage our communities in programs that focus on whole-life well-being," said Glen Gunderson, president and CEO of the Y. "Healthy and happy kids are integral to the YMCA mission, and this program allows us to reach families and young people who may not otherwise have opportunities to participate."
The Y focuses on building connections between the school and the community so that all kids can have access to opportunities to learn healthy habits, grow stronger and thrive in each stage of life. Y programs integrate CATCH (Coordinated Approach To Child Health), a nationwide curriculum that features games and physical activities to keep kids active as well as nutrition education to help kids choose foods that will help them grow. The Y implements CATCH not only in before and after school, but also in its child care programs, early childhood learning centers, summer programs and branch activities.
Discover how the Y provides a balanced meal in its after school program at John A. Johnson Elementary School to ensure all kids have access to nutritious foods – YMCA Healthy Foods for Healthy Kids.
Learn how a unique hip-hop class offered as part of Y School Success programming helps kids stay active, express themselves and have fun – YMCA Healthy Kids Keep Moving.
See how students in a Y cooking class find exciting ways to make their favorite recipes more nutritious and take what they've learned home to their families - YMCA Healthy Kids Cook.
When the Y engages young people in health, nutrition and well-being, it prepares them to make better choices and connects families to healthy living opportunities. By integrating this important programming into after school enrichment activities, child care programs and more, the Y gives more kids the opportunity to learn. In addition, the Y offers many classes and events that engage families in healthy living, including the Y Run on April 15 for all ages and abilities.
Because the Y is a leading nonprofit committed to helping all learn, grow and thrive, financial assistance is available based on need. To learn more or to get involved, please visit ymcamn.org.