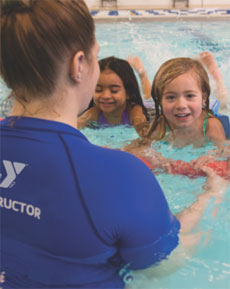 According to the World Health Organization, drowning is the third leading cause of unintentional injury death worldwide. 
Statistics from the USA Swimming Foundation show that children of color, low-income families and people who don't have access to water are more likely to drown. 
Research shows that participating in formal water safety and swim lessons can reduce the risk of drowning among children ages one to four.
The YMCA of the Greater Twin Cities, a leading nonprofit dedicated to strengthening communities through youth development, healthy living and social responsibility, works to eradicate disparities in our community by providing access to programs that teach life-saving swimming and water safety skills.
Research shows that groups facing barriers like income or unfamiliarity with water are at greater risk for drowning. With thousands of lakes and rivers in Minnesota, it is critical that everyone has access to water safety education. To bridge this gap, the YMCA offers proven programs for all ages and abilities to build skills and confidence in the water. 
"The YMCA is committed to saving lives through water safety programs. We partner with community groups, including schools and churches, to reach as many people as possible," said, Glen Gunderson, president and CEO for the Y. "Each year our Y reaches over 4,000 people through the Safety Around Water program alone. Thanks to partnerships with Abbey's Hope, Delta Air Lines and Hawkins Inc., we are able to offer this program free of charge so all can participate."
The YMCA Safety Around Water program teaches kids what they need to do to stay safe in pools, lakes and rivers. In addition to learning what to do if a friend is in trouble, kids develop skills to help if they find themselves in the water unexpectedly:
Jump, Push, Turn and Grab – teaches a child to push off the bottom of the pool as they are submerging to get back up to the surface and turn to grab the side of the pool.
Swim, Float, Swim – teaches children to swim a short distance on their front, roll over on their back to rest, and then roll on their front to continue swimming to safety.
Additional water safety tips for kids and parents include:
Never swim alone.
Adults should constantly and actively watch children in their care.
Always keep young children or non-swimmers within an arm's reach of a parent or guardian.
Inexperienced or non-swimmers should wear a Coast Guard-approved life jacket.
The YMCA Safety Around Water program also provides an introduction to the water. Participants can easily transition to YMCA swimming lessons to continue developing skills and confidence. Swimming is a lifelong sport with opportunities for all ages and abilities – in addition to swimming and water safety lessons, the YMCA also offers competitive swimming teams, free group water exercise classes for members, lifeguard certification training and more.
See how the Blaisdell YMCA in South Minneapolis is inclusive so all community members have access to life-saving water safety classes – YMCA Water Safety for All.
Discover how the White Bear Area YMCA and Maplewood Community Center YMCA work together and partner with community schools to serve local youth – YMCA Water Safety: Partnering with the Community to Keep Kids Safe. 
Learn how swimming can make a positive, healthy impact for people of all ages – Swimming for Health: Mary Beth's Story.
The Y has been a leader in providing swim lessons and water safety for more than 100 years, helping youth and adults from all backgrounds stay confident and secure in the water. Because the Y is a leading nonprofit committed to helping all learn, grow and thrive, need-based financial assistance is available.