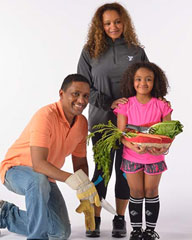 Cargill Foundation Partners with YMCA on Minneapolis Kitchen for Youth and Families
Minneapolis, MN – The YMCA of the Greater Twin Cities, a leading nonprofit dedicated to youth development, healthy living and social responsibility is celebrating the opening of a new Healthy Living Kitchen at the Harold Mezile North Community YMCA Youth & Teen Enrichment Center.
Located in the nation's first youth-only YMCA, the Healthy Living Kitchen will incorporate the YMCA's Healthy Food philosophy by developing a self-sustaining nutrition education to youth and healthy food access source to youth and their parents in the North Minneapolis community. The program, funded by the Cargill Foundation, will provide nutrition education training to YMCA staff, volunteers and partners that result in the improved ability to educate participants on nutrition practices.
"We believe this center will be one of Minneapolis' most important hubs for families and their children to learn about and sustain good nutritional habits throughout their lives," said Michelle Grogg, executive director of the Cargill Foundation.  "The YMCA—with its wide reach across the North Minneapolis community—is very well suited to lead an effort like this and we are confident that their work will have a lasting impact."
"We are thrilled to partner with the Cargill Foundation to provide access to resources and develop enriching programs that improve healthy habits," said Glen Gunderson, president and CEO of YMCA of the Greater Twin Cities. "Youth and families in the North Minneapolis community will experience firsthand fun programs highlighting how to prepare simple, great tasting and nutritious snacks and meals."
The Healthy Living Kitchen will offer courses that provide hands-on cooking instruction and gardening curriculum and classes for youth grades kindergarten through 12 and their families.  The kitchen will also feature community-based workshops for families.
Program partners supporting the education and enrichment programs at the Healthy Living Kitchen include Mind Foundry, Appetite for Change, MatterBox, Northside Achievement Zone (NAZ) and CityKids Mobile Market.
The celebration will feature Chef Marshall O'Brien presenting on Eating vs. Nourishing, Super Bowl Snack Challenge Winner Naimah recreating her winning dish and youth leading tours of the new Healthy Living Kitchen.
For more information on programs offered at the new YMCA Healthy Living Kitchen, contact Taronda Richardson at taronda.richardson@ymcamn.org or at North Minneapolis YMCA 612.521.0855.
WHO: 
YMCA of the Greater Twin Cities
WHAT:
Healthy Living Kitchen Opening Celebration
WHERE: 
Harold Mezile North Community YMCA Youth & Teen Enrichment Center, 1711 West Broadway, Minneapolis, MN 55411
WHEN:
Monday, April 30, 2018 
2:30-5:00 p.m.
About the YMCA of the Greater Twin Cities
The YMCA of the Greater Twin Cities is a leading nonprofit dedicated to strengthening communities through youth development, healthy living and social responsibility. Established 162 years ago, the Ys provide life-strengthening services across the greater Twin Cities metro region, southeastern Minnesota and western Wisconsin communities. The 29 Y locations and program sites, seven overnight camps, 10 day camps, and more than 90 child care sites engage more than 350,000 men, women and children of all ages, incomes and backgrounds. To learn more about the Y's mission and work, visit www.ymcamn.org.
About Cargill
Cargill's 155,000 employees across 70 countries work relentlessly to achieve our purpose of nourishing the world in a safe, responsible and sustainable way. Every day, we connect farmers with markets, customers with ingredients, and people and animals with the food they need to thrive.
We combine 153 years of experience with new technologies and insights to serve as a trusted partner for food, agriculture, financial and industrial customers in more than 125 countries. Side-by-side, we are building a stronger, sustainable future for agriculture.