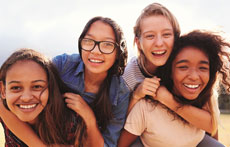 According to Pew Research Center, only 20 percent of today's 16 to 17 year-olds hold a summer job, and that rate is even lower among teens of color. 
Statistics show that risky behaviors like violence, drinking and drug use increase during the summer when young people's time is less structured. 
Participation rates in camps and similar programs have remained stagnant or fallen in recent years.
The YMCA of the Greater Twin Cities (YGTC), a leading nonprofit dedicated to strengthening communities through youth development, healthy living and social responsibility, is partnering with the Richard M. Schulze Family Foundation to offer free summer memberships for thousands of teens across the Twin Cities. From June 4 to August 31 youth entering grades nine through 12 can access a free membership to 25 YMCA locations throughout the Twin Cities.
Teens need a safe place to go in their communities that is flexible, engaging and accessible to all. The YGTC is positioned to help bridge this gap in the Twin Cities and ensure that youth of all backgrounds and incomes have access to learning opportunities outside of school. The YGTC's locations cut across city, county and school district boundaries. More than 80 percent of Twin Cities teens live within 15 minutes of a YMCA location that offers opportunities for wellness, sports, leadership programs, pathways to part-time jobs at the Y and more. 
"The YMCA is thrilled to partner with the Schulze Family Foundation to provide a safe environment for young people to engage in programs that promote healthy living, build character and leadership, and support success in school and in life," said Glen Gunderson, president and chief executive officer for the YGTC. "The Y is committed to eliminating barriers to participation so all have the opportunity to learn, grow and thrive during the summer months. This program is possible because of the generous donation from the Schulze family."
This year the YMCA will increase the number of youth served with 250 per location for a total of 6,250 youth and more specific teen programming was added including: 
health and wellbeing classes and youth specific fitness challenges using the YMCA app
leadership and character development programs including Leaders Club, Achievers and Youth in Government
job readiness workshops and courses designed to prepare youth for employment opportunities in their community and at the Y
In addition, some teens do not have access to a nutritious meal during the summer. To meet the need, the program is also offering free meals at eight Y locations including Blaisdell, Minneapolis, Burnsville, Coon Rapids, East St. Paul, Maplewood, Midway St. Paul, New Hope and West St. Paul.
Discover how the YMCA provides teens job readiness workshops and courses to better prepare them for future employment opportunities – YMCA Creates Career Pathways for Teens
Learn about how the YMCA provides free summer memberships to teens across all 25 Twin Cities locations – YMCA Get Summer!
Watch students from Roseville Area High School spend their summer at the Shoreview YMCA – Roseville Students Get Summer!
The Get Summer program is open to all students of all backgrounds and incomes. Youth entering grades nine through 12 can visit any participating YMCA location to enroll with a valid ID, class schedule or report card and the permission of an adult. Each participating location can accommodate up to 250 participants for over 6,000 teens in 2018. For more information, visit ymcamn.org/getsummer. 
Because the Y is a leading nonprofit committed to helping all young people and their families thrive, financial assistance is available to those in need. To learn more about the Y's programs, please visit ymcamn.org.