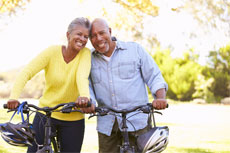 According to the CDC, the population of older adults is growing, by 2050 there will be nearly 89 million older adults in the United States, more than double the number in 2010.
In the state of Minnesota, one in 11 people aged 45 and older are experiencing memory problems that worsen year over year.
The CDC reports 31 percent of adults ages 65 and older had no leisure-time physical activity in the past month and older adults have the highest rates of poor physical health and activity limitation compared to other age groups.
According to the National Institute on Aging, more than two million people over the age of 65 have been diagnosed with depression or social isolation.
The YMCA of the Greater Twin Cities, a leading nonprofit dedicated to strengthening communities through youth development, healthy living and social responsibility, addresses the needs of the growing aging population to help them thrive physically, mentally and socially.
The National Institute on Aging states 10,000 people become eligible for Medicare daily, a rate likely to continue over the next 20 years. Physical, mental and emotional health is important as people age to prevent injuries and reduce the risk of dementia and depression. With a focus on healthy aging, the YMCA addresses all aspects of wellness and helps older adults stay active physically, mentally and socially.
"The Y offers health and wellness programming tailored to seniors at every fitness level," said Glen Gunderson, president and CEO of the YMCA of the Greater Twin Cities. "Our goal is to help every one of our ForeverWell participants live a healthy, connected and fulfilling life." 
Active Aging Week - September 24-28, 2018
Gunderson added the YMCA will recognize Active Aging Week September 24–28, 2018. With a focus on healthy aging, the Y is committed to helping seniors access programs that can help them build strength in spirit, mind and body. Each Y location offers a variety of opportunities to connect to the community through education and enrichment programs, volunteering, day trips and more. 
National Falls Prevention Day – September 22, 2018
Each year, it's estimated that one out of four Americans aged 65 or older will suffer a fall, leaving many adults with a fear of falling that can cause them to limit physical activities. This leads to reduced mobility and diminished quality of life and can increase their risk of falling. In addition, as the population ages falls put an immense strain on the health care system, with the financial toll expected to reach $67.7 billion by 2020.
The CDC suggests these basic lifestyle and safety changes to help reduce risk and prevent falls:
Begin an exercise program to improve leg strength & balance.
Ask a doctor or pharmacist to review medicines.
Get annual eye check-ups & update eyeglasses.
Make home safer by:
Removing clutter & tripping hazards.
Putting railings on all stairs & adding grab bars in the bathroom.
YMCA Thrive Awards
At the 13th annual Gathering, one of the state's largest and fastest growing annual events for active older adults, Y members were recognized for their commitment to healthy living. The Thrive Awards recognize YMCA members who
Reveal the impact of exercise on overall health and wellness
Volunteer regularly within the community
Model and embrace inclusion, compassion and diversity
Strengthen others
Prove perseverance in some area of their life
Watch how 81-year-old John bikes 12 miles to the Y and leads a local fundraiser where proceeds go towards scholarships for youth affected by cancer – John's Story
Learn how 73-year-old Mary Lou feels called to volunteer and pays forward the kindness shown to her by volunteering in various local communities – Mary Lou's Story
Discover how 69 and 76-year-old couple, Stan and Jo, are considered the mom and pop of their Y, by constantly giving back to their fellow members – Jo and Stan's Story
Watch how 78 and 80-year-old couple, Ralph and Sharon work together as a team to welcome others to the community and make sure everyone feels included – Sharon and Ralph's Story
The Y participates in the Silver&Fit and Silver Sneakers® programs for Medicare-age members and encourages people to check with their insurance provider to determine if they are eligible. Health and fitness offerings for seniors include cardio classes like Zumba Gold, Aqua Zumba, line dancing, group cycling, circuit training, water exercise classes, yoga, walking clubs, Tai Chi and Bridge to Fitness. Recreational activities include pickleball, book clubs, potlucks and field trips. 
Because the YMCA is a leading nonprofit committed to helping seniors thrive, financial assistance is available to those in need.