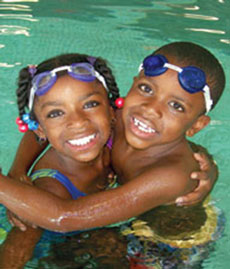 According to the USA Swimming Foundation and University of Memphis, two children die every day because of drowning.
According to a national research study conducted by the USA Swimming Foundation, the University of Memphis and University of Nevada-Las Vegas, 60 percent of African American and 45 percent of Hispanic children cannot swim compared to 40 percent of Caucasian children.
In 2018, 46 people drowned in Minnesota in boating and non-boating related accidents, according to the Minnesota Department of Natural Resources.
The YMCA of the Greater Twin Cities, a leading nonprofit dedicated to strengthening communities through youth development, healthy living and social responsibility, makes swimming accessible to all by teaching water safety skills and emphasizing life saving tips during National Water Safety Month.
As the season turns from winter to spring, the YMCA encourages children and adults to explore the many benefits of swimming, while also keeping safety top of mind. In Y swim programs participants can enjoy water sports, enhance or learn new techniques, meet new friends and develop confidence, and most importantly learn safety skills that can save lives.  
"It's never too early to get children involved in swimming to keep them active, healthy and safe around water," says Glen Gunderson, president and CEO of the YMCA of the Greater Twin Cities. "There are so many options for parents and the best place to start is by learning basic water safety skills that help get children familiar with the water and then often continue with swim lessons, competitive swim programs and possibly even a career like lifeguarding or coaching."
Gunderson added as part of National Water Safety Month, parents are encouraged to take an active role in fostering a relationship between their children and swimming. The Y offers several programs promoting the benefits of swimming including:
Y Swim Lessons: The Y's swim lessons for infants, kids and teens are the most accessible community resource to prevent drowning and encourage a lifelong enjoyment of swimming. The Y serves all ages in the pool from six months to adults. The YMCA offers a limited amount of free swim lessons each year and people can apply online at www.ymcamn.org/freelessons. 
Y Adaptive Swim Lessons:  The Y tailors swim lessons to meet the unique needs of each individual to ensure they can be as safe as possible in and around water and receive the therapeutic benefits of swimming.
Competitive Swim: YMCA competitive swimming and diving teams are the natural progression from Safety Around Water and Y Swim Lessons by encouraging children and teens to continue their love of swimming while providing an ideal environment for cognitive, physical and social-emotional development. 
Lifeguards and Swim Instructors: The YMCA offers training and job opportunities to help teach the community how to be safe in and around the water.
See how the YMCA ensures all in our community have access to water safety and swimming lessons –  Swimming for All
Learn about the rewarding opportunities to be a lifeguard and swim instructor in the community –  Why Join the YMCA Aquatics Team?
Discover how to gain valuable water safety skills with free swim lessons –  YMCA Free Swim Lessons
The YMCA Safety Around Water program teaches youth what they need to do to stay safe in pools, lakes and rivers. In addition to learning what to do if a friend is in trouble, youth develop skills to help if they find themselves in the water unexpectedly:
Jump, Push, Turn and Grab – teaches a child to push off the bottom of the pool as they are submerging to get back up to the surface and turn to grab the side of the pool.
Swim, Float, Swim – teaches children to swim a short distance on their front, roll over on their back to rest, and then roll on their front to continue swimming to safety.
The YMCA reaches over 5,000 people through the Safety Around Water program. Thanks to partnerships with Abbey's Hope, Delta Air Lines, Hawkins Inc., Hennepin County and USA Swimming Make a Splash Foundation the program is available free of charge so all can participate.
Along with the Safety Around Water program, the YMCA offers children and adults life-saving tips including:
Never swim alone.
Adults should constantly and actively watch children in their care.
Always keep young children or non-swimmers within arm's reach of parent or guardian.
Inexperienced or non-swimmers should wear a Coast Guard-approved life jacket.
Don't engage in breath holding activities.
Don't jump in the water to save a friend who is struggling in deep water rather use a long object to reach for them and pull them to safety.
Enroll children and non-swimmers in water safety or swim lessons.
Because the Y is a leading nonprofit committed to helping all young people and their families thrive, financial assistance is available to those in need. To learn more about the Y's programs, please visit ymcamn.org.