Yoga has become ubiquitous in our culture – but does that mean you should do it?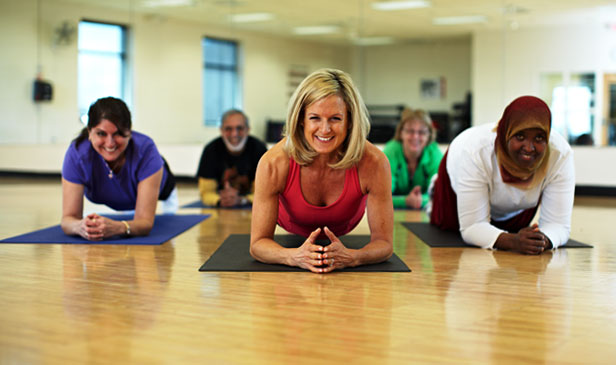 by Leah Murtagh, Director of Healthy Living at the Shoreview YMCA
Yoga, yoga, yoga. It's everywhere. Mats for sale at Marshalls. 5-minute-yoga books. Yoga tea. Yoga for Wii. Yoga for Dummies™, YogaFit™ Yoga On Demand™, Hot Yoga, yoga cat and dog calendars (seriously, my sister bought me one last year!), and YouTube instructional videos from every would-be guru under the sun turning themselves into svelte, bend-y pretzels and making all of us feel bad that we cannot touch our own toes.
There's a lot of yoga out there. Yoga has become ubiquitous in our culture – but does that mean you should do it?
Is yoga for me?
The good news about yoga is that you don't have to be one of those "weird" or extreme people to do it. You know, the ones who engage in master cleanses, drink Kombucha tea, and have their chakras aligned on a regular basis. You also don't have to worry about becoming one of those "weird" people if you start a yoga practice. Unless, of course, you want to. "Those" people are pretty fun, most of the time. (You know who you are!)
Yoga is an ancient practice dating back about 5,000 years. It began simply as a deliberate method of sitting still, and became a marriage of physical exercises, focused breathing, and opening the mind to meditation. Today, the practice has many different flavors, traditions, devotees, and rituals. It is not a religion. It is completely individual, even though many of us choose to practice it in groups or classes.
Yoga is for you if you:
Enjoy the idea of effective exercise that is beneficial to more than just your body
Need to work on overall flexibility
Need to work on balance
Want something different in your regular routine
Want to be a better athlete
Want to get better at strength training
Want to work out AND reduce stress
At the YMCA of the Greater Twin Cities, we offer two kinds of yoga that are free with membership: Gentle Yoga and .
Beginners benefit greatly from starting with a Gentle class
This practice moves at a slower pace, allowing the student to gradually become comfortable with yoga terminology and moving the body in different ways. Students stretch, perform body-weighted poses that strengthen our core, legs, and arms, and also experience balance poses that help us with our posture and spinal alignment, as well as preventing falls and improving coordination in our "regular" lives.
Fitness Yoga is a continuation of Gentle Yoga
The poses are similar but may offer more challenging variations and the pace of class is typically a bit more fluid. One pose flows gracefully right into another one, and transitions from being on the mat to standing up are more frequent.
Tips for newbies
Arrive early to your first several classes and get to know the instructor.
Remember that with any new class, you will have a learning curve and may feel awkward or self-conscious. Thankfully, the lights in class are usually dim, and no one is looking at you anyway – they're all checking themselves out in the mirror!
It may seem like everyone else knows exactly what they are doing and you'll never get it in a million years. Guess what? Your response is exactly the same as every other student the first time they did yoga. Give it 4 classes and see how you feel.
As always, check with your doctor or physical therapist if you have muscle or bone issues that make you question whether you should participate or not.
Try out several instructors until you find the one you click with the most. We all teach classes in slightly different ways, even though many of the poses are the same across the board.
Ask questions and most importantly, learn to listen to your body. That means stopping if something hurts, or holding on when something feels great.
Stick with these tips and you'll be fully prepared to embrace the wobble of yoga!