12 healthy ideas for the new year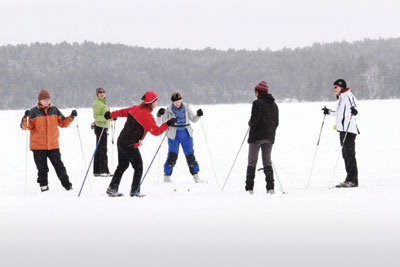 Jump-start your January with a flurry of fun, healthy, and active ideas. Challenge yourself to try them all in one month, or plan to tackle a new idea every month of the year.
Make a smoothie.
Something about the great texture of a smoothie makes fruits and veggies more delicious. Whip up a smoothie that packs a powerful nutritional punch with this healthy recipe from Reboot with Joe.
Bundle up and go on a walk.
Getting outside for some fresh air is a great (and free!) way to stay active—no matter the season. Ask a friend or family member to join you and catch up while you walk your neighborhood sidewalks, around one of our many lakes, or on a local trail.
Join a pick-up game of basketball.
Several Y locations include pick-up basketball in their gym schedules. Don't be shy--get in on the action at a gym near you!
Go cross-country skiing.
The Twin Cities are home to miles and miles of groomed cross-country ski trails. If you're new to cross-country skiing, sign up for lessons and rent equipment at the Wirth Winter Recreation Area, the Como Park Ski Center, and at several Three Rivers Parks.
Swim laps for 15 minutes.
Take a break from the treadmill and head for the pool to shake up your fitness routine. Swimming comes with many of the same benefits as aerobic activities like jogging or biking—and with swimming, you can stay cooler and reduce your risk of orthopedic injury.
Go ice skating.
Head to the indoor Depot Ice Rink or one of more than 60 outdoor ice rinks managed by the Minneapolis and St. Paul park and recreation boards—most have warming houses and some have free skate rental on a first-come, first-served basis.
Volunteer for an hour.
Helping others feels great and can be a one-time gig or an ongoing relationship—what you give is up to you! It's easy to find an opportunity to volunteer with sites like HandsOn Twin Cities and Volunteer Match.
Ask a personal trainer a fitness question.
Personal trainers don't bite—they are there to help! While working out at any Y location stop a trainer for a quick question, send a question via email, or if you're a Y member, get a free Fitness Solution—just stop by Member Services.
Make a date to work out with a friend.
Try doubling up on dates with friends—for each social date, add a work-out date. Exercising with a partner provides extra motivation, helps keep you accountable to your fitness plans, and is more fun!
Steam some broccoli to enjoy as a snack or with a meal.
The health benefits of broccoli are endless—full of fiber and calcium, high in potassium and protein, packed with vitamins C & D. It helps your body to detoxify, battle allergies and inflammation, improve eye and skin health, decrease blood sugar levels, and ward off heart disease.
Make your lunch the night before.
Pack up a nutritious and affordable lunch post-dinner to save time in the morning. Check out ideas from BuzzFeed to make lunch functional and fun, and wholesome make-ahead recipes from theKitchn.
Try indoor rock climbing.
Explore the bouldering cave (free) or take a climbing clinic at Midwest Mountaineering. If you're an REI member, take advantage of one free climb per day on the Pinnacle at the REI Bloomington location.