Make a splash adding aquatic exercises to your fitness routine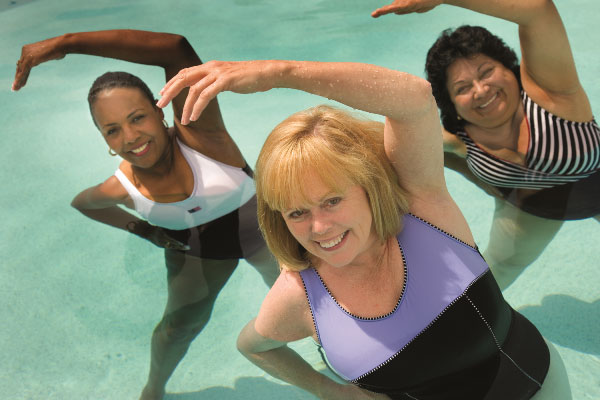 By Lindsay Mondick, Director of Aquatics, YMCA of the Greater Twin Cities
Summer is a great time to dive into a new workout, and the pool is the perfect place to literally do just that.
In the water, your whole body is working—water is denser than air, which provides resistance for all movements. Water's buoyancy gives joints a break, making it an ideal choice for people recovering from an injury or those with joint pain. WebMD says that when immersed to your waist, your body bears just 50% of its weight—when immersed to the chest, 35% and to the neck, just 10%.
Although the pool might help keep you cool during your workout, the same guidelines apply to a water workout as to a land-based routine. Don't forget to warm up and cool down, and remember to drink plenty of water before, during, and after your water workout.
And as an added bonus, getting fit in the pool is fun! According to the Centers for Disease Control and Prevention, people tend to enjoy water-based exercise more than exercising on land.
From cardio to strength-training, there's something for everyone to try in the pool. Here are five ideas to get you started:
Work your arms and core
In chest-deep water, stand with feet apart and arms extended straight in front of you. While breathing rhythmically, push a ball (beach or water polo balls work well) under the water, and swing it into a figure-eight pattern through the water. Feel the varying resistance on your arms and upper body. Move in as smooth a rhythm as you can, making sure not to strain your shoulders or back. Try maintaining a sturdy balance and repeat 10 times.
Note: If you are recovery from a shoulder injury, do not practice this exercise in the absence of a therapist.
Tone your legs
Choose from two techniques to get a great leg workout:
Stand in chest-level water and lift one leg toward the surface—try to get your toes out—and then pull your leg all the way down to the bottom of the pool. Switch legs quickly, bringing your right leg down as you lift your left leg.
Hold a kick board in front of you and let your legs float behind you and get kicking. Try these kick drills from U.S. Masters Swimming. Working with a kick board helps you to concentrate on the flow and the rhythm of your kick. You can use a kick board as part of a warm up, or an active-recovery tool in the middle of a workout.
Simply swim
Swimming is a great exercise for people of all ages. There are many simple swimming workouts like front crawl, sidestroke, and breaststroke that you can learn, and carry out on a regular basis. Swimming exercises are excellent for those suffering with back pain and joint pain. A moderate amount of swimming is always healing and refreshing for your body, with the added benefits of keeping you healthy and fit.
If you're new to swimming or want to refine your strokes, consider signing up for swim lessons. The YMCA offers swim lessons for children, teens and adults.
Try a Water Exercise class
The YMCA offers several Water Exercise classes, including Aqua Zumba, Deep Water Power, Water Kettlebells, plus classes for active older adults and kids. Learn about water workout classes or jump in and find a class at a Y near you.
Ready to jump in? All of our YMCA's with pools offer water aerobics classes. Please check our class offerings for one that meets you needs!
Walk or run, in the pool
One of the easiest and most effective pool workouts is water jogging or water walking. At high intensity, this popular exercise can burn 17 calories per minute—more than on land. It also makes you stronger because you have to push yourself against the resistance of the water. To make the exercise more challenging jog for one- to three-minute intervals in waist-high water, then alternate with less cardio-heavy water exercises. This will lets you keep the number of calories burned high, but doesn't require the endurance to jog for more than several minutes at a time.
Lindsay is the Director of Aquatics at the Y of the Greater Twin Cities. She is a certified YMCA Water Fitness Instructor Faculty, Aqua Exercise Association (AEA) Certified Instructor, AEA Trainer and AEA National Presenter, Arthritis Foundation Aquatic Program Instructor, and ACE Personal Trainer.