A quick guide to protecting skin from sun, heat and pests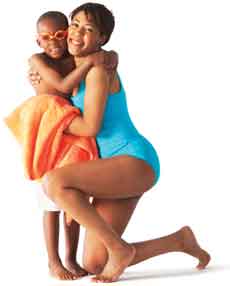 Getting outside to enjoy the beautiful weather is undoubtedly one of the top ways Minnesotans like to spend the summer. This time of year, protecting your skin is more important than ever—when harmful UV rays, pesky bugs and dehydrating temps are common.  Read on for a quick guide to keeping your skin healthy all summer …
Protect against sun damage
The American Academy of Dermatology notes that one in five Americans will develop some form of skin cancer during their lifetime. Block harmful UV rays (even on cloudy days) by:
Wearing sunscreen—choose from sprays, lotions, sticks and more. Look for those that are water resistant, have at least SPF of 15, and offer broad-spectrum protection. Many beauty products and lip balms also include SPF, which are great for daily use.
Wear protective clothing and accessories. Keep your eyes shielded with sunglasses (prolonged sun exposure can contribute to cataracts), and wear a hat to keep your scalp, ears, and face protected.
Nourish skin with healthy foods
Taking care of your skin isn't just about what you put on it. There are several foods that can help you protect and preserve your skin. The BBC suggests the following foods to help you maintain healthy skin: Antioxidants and help slow and prevent free radicals, which cause signs of aging. Try in-season antioxidant-rich berries, beets and spinach.
Selenium is found in Brazil nuts, shrimp and tomatoes, and may help prevent skin cancer.
Fruits and veggies like carrots, kale and papaya contain antioxidants, which help with a healthy skin tone.
Vitamin C-rich bell peppers, kiwis, strawberries and broccoli can help with collagen and elastin production.
Almonds, avocado and sunflower oil are packed with vitamin E, which helps support healthy skin growth.
Ward off bugs
Aside from bites that can irritate skin, bugs can carry diseases. Keep pests away by using repellent products like these sprays, wipes and bands from the Huffington Post. If you're not into wearing bug repellent, you can:
Keep skin covered with clothes
Use citronella candles or other bug-repellant oils in your outdoor spaces
Avoid the outdoors in the early morning and at dusk when bugs are the worst
Don't use scented lotions that can attract bugs
Keep skin moisturized
Moisturize skin after bathing and drink plenty of fluids to stay hydrated. An article from the Department of Dermatology at the Mount Sinai School of Medicine in New York cites that moisturizers can help serve as a barrier to water loss, and improve the skin's function as a barrier to protect underlying tissues.