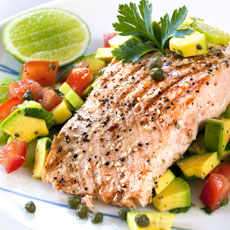 by the Chef Marshall O'Brien Group
Oven-roasting salmon with herbs and spices on a foil-lined pan allows for easy clean-up of this simple, tasty meal. The lemon and basil highlight the tasty flavor of the salmon.
Recipe provided by the Chef Marshall O'Brien Group.
Serves 4
Ingredients
1 1/4 pounds salmon, portioned into serving sizes
1 tablespoon olive oil
1⁄4 teaspoon salt, or to taste
1⁄4 teaspoon black pepper, or to taste
1 1/2 teaspoons dried basil
1 teaspoon dried parsley
1 tablespoon garlic, minced
1⁄2 cup white onion, thinly sliced
1 fresh lemon, reserve half for juice, slice other half thinly
Directions
Preheat oven to 350 degrees.
Rub fillets with olive oil, salt and pepper.
Remove any bones with a tweezers or pliers.
Line pan with parchment or foil. Choose a sheet pan with 1⁄2 inch sides to retain cooking juices.
Place fillets, skin side down, on sheet pan.
Combine herbs, garlic and onions. Cover fillets with mixture. Squeeze lemon juice on fillets and place lemon slices on top of each fillet.
Bake in oven until firm to the touch, about 15-25 minutes.
The Chef Marshall O'Brien Group is a dedicated assembly of professionals based in Minneapolis, Minnesota, committed to the goal of using nutrition to get kids and families to lead happier, healthier lives.