Need-based scholarships offer quality child care to all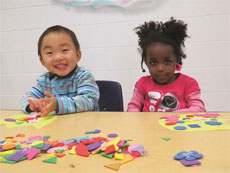 Studies show that early childhood is a key time for social and cognitive development. Eighty percent of a child's brain is developed by the time they are three years old.
During these first years of life, children develop language, social and problem-solving skills. To offer positive experiences during this crucial time of development, the Y offers Child Care and Preschool to kids ages six weeks to five years.
The Y provides a safe and nurturing environment that allows kids to develop key skills at their own pace—through play-based learning and with the guidance of caring adults.
All kids deserve a chance to succeed—no matter their background or family income. That's why need-based scholarships are available to cover the cost of tuition for Child Care. Learn more.
These scholarships are made possible through generous donations from organizations and individuals. By , you can help to ensure that quality early childhood learning is affordable for all, including people like: