Time flies at this low-impact dance party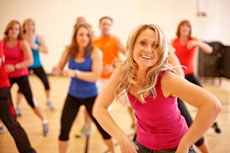 Dance is a great way to stay active, especially for older adults. Shake up your fitness routine with Zumba Gold at the Y—it's a free class for members.
Marci Johnston, an instructor and Personal Trainer at the Southdale Y breaks down Zumba Gold basics for newbies:
It's more about fun than about following a strict dance routine
This class doesn't require you to have any previous knowledge of dance styles—in class you'll have an opportunity to learn moves and choreography. Class is about keeping your body moving and enjoying the lively music.
You'll start with a warm-up, get to dancing and end with a cool-down and stretching routine. Time flies in Zumba Gold—before you know it, you'll have gotten in a great workout that improves your cardiovascular endurance, coordination and balance.
It's a great starting point for all Zumba classes
Hour-long Zumba Gold classes feature more verbal instruction and cues, so they are a great place to learn and get comfortable with the moves used in all Zumba classes, which use elements of salsa, merengue, reggaeton and more.
If at any point you feel uncomfortable with the move, or are having trouble following along—marching in place is encouraged. Your instructor is there to help you with modifications, so knowing your limits is important.
It's for a wide variety of ages
Although this class is popular with active older adults, you'll see a wide variety of people in this friendly and welcoming class. People under age 55 come for the instruction on Zumba moves, and people into their 90s enjoy moving to the music.
Pro tips for your first class
If you're interested in giving Zumba Gold a try, set yourself up for success with these tips:
Know that this class requires you to be physically active and have freedom of movement
When learning new moves, focus on getting the footwork right, and then work on integrating upper-body movements
Wear a flat, non-gripping athletic shoe
Come to class a little early and let your instructor know you're new, and if you have any injuries or physical limitations—they might have some extra pointers for you