Guidance on successful and sustainable weight loss and maintenance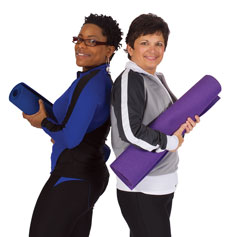 How it can help
Lighter U is a 12-week program that promotes nutrition and wellness, and physical activity. The program is designed for people age 18 and up who are looking to build healthier habits, to feel better and to lose/maintain weight.
Groups of six to 12 participants meet for 75 minutes once a week to:
Set realistic goals and receive coaching on how to make progress each week
Find support in group discussions, guided by trained Y staff
Learn about fitness, nutrition and healthy habits—including topics like portion size, grocery shopping, eating healthy in social situations, hydration, sleep, exercise and more
Participate in physical activities
Senior Director of Fitness for the Y, Jennifer Menk says, "Our focus is helping participants make healthy lifestyle changes in a manageable way. Lifestyle change is a process and this program is designed to provide the skills and resources to promote it."
What to expect
Participants in the program will receive individual guidance on reaching specific goals, will be encouraged to join group educational sessions and will work out as a group each week. Come prepared to learn, share your journey and dressed to exercise.
In addition to coaching and check-ins during the program, participants are encouraged to take advantage of a complementary introductory consultation with a Personal Trainer and check-in consultations after six and 12 weeks.
After completing Lighter U, expect to feel confident in continuing to work toward or maintain your individual goals.
How to get started
Registration is required and is discounted for Y Members:
Members: $249—with the option to choose three monthly payments of $82
Non-members: $299
Lighter U availability varies by location—stop by Member Services at your local Y for more information, or register online.