Guidance on successful and sustainable weight loss and maintenance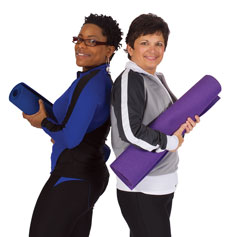 How it can help
Lighter U is a program that promotes nutrition and wellness, and physical activity over the course of a seven- or 12-week session. The co-ed program is designed for people age 18 and up who are looking to build healthier habits, to feel better and to lose/maintain weight.
Groups of six to 10 participants meet once a week to:
Set realistic goals and receive coaching on how to make progress each week
Find support in group discussions, guided by trained Y staff
Learn about fitness, nutrition and healthy habits—including topics like portion size, grocery shopping, eating healthy in social situations, hydration, sleep, exercise and more
Senior Director of Health and Wellbeing for the Y, Jennifer Menk says, "Our focus is helping participants make healthy lifestyle changes in a manageable way. Lifestyle change is a process and this program is designed to provide the skills and resources to promote it."
What to expect
Participants in the program will receive individual guidance on reaching specific goals and will be encouraged to join group educational sessions. You'll be asked to track your exercise, nutrition, sleep, hydration and stress management and then discuss your basic patterns with the group. There are also checkpoint weigh-ins and girth measurements throughout the program. Come prepared to learn and share your journey.
The Lighter U program does NOT include a meal plan or specific recipes to follow, however, you will receive guidelines for nutrition and fitness. For those in the 12-week program, you will also work out as a group each week. Come dressed to exercise.
After completing Lighter U, expect to feel confident in continuing to work toward or maintain your individual goals. You'll have the tools to set yourself up for sustainable results that might include losing weight, having increased energy or changing your body composition.
Here's a look at how the seven- and 12-week programs compare:
Seven-week program
Meet for 60 minutes once per week
Includes goal setting, group discussion and education
Does not include exercising as a group, instead fitness components are homework
Costs $140 for Y members and $182 for non-members, save $30 when you register by January 31
12-week program
Meet for 75 minutes once per week
Includes goal setting, group discussion, education and exercising as a group
Costs $249 for Y members and $299 for non-members, save $50 when you register by January 31
How to get started
The next session of Lighter U starts the week of January 14. Registration is required and is discounted for Y members. Lighter U is available at all YMCA locations—stop by your local Y for more information, or register online.