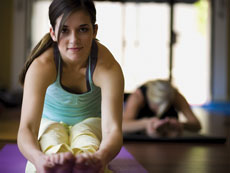 Ways to keep your mind healthy at any age
Nearly 44 million American adults, and millions of children experience mental health conditions each year. Mental health includes emotional, psychological, and social wellbeing. It affects how we think, feel, and act—and is important at every stage of life.
MentalHealth.gov suggests a variety of ways to maintain positive mental health, including:
If you're looking to improve your mental health—the Y is a great place to start. Here are a few ideas to help you focus on overall wellbeing:
Health and fitness
From Group Exercise classes to Personal Training to Swimming, the Y offers people of all ages and abilities a variety of equipment, classes and programs for getting and staying healthy.
Volunteer opportunities
Whether it's coaching kids in sports, greeting members or helping with fundraising efforts—there are plenty of ways for you to get involved and make a difference in our community.
Camp communities
A camp experience can be magical and transformative—whether it's just for the day, or overnight. Kids and adults can make friendships and lasting memories while trying new things at camp.
Activities for active older adults
Baby boomers to seniors can find a wealth of wellness opportunities at the Y through social clubs, special events and more.