By the Chef Marshall O'Brien Group
Hold on to your taste buds, because this vegetarian chili is jammed with flavor! Garlic, cumin, and chili powder are popular and familiar, and this one-dish meal also introduces new flavor notes from the sweet potatoes and basil. Serve this for a hearty meal while watching the big game and, while you're at it, make a double batch and freeze it for quick family meals later. Eat it as is, or top it with cilantro, jalapeno, fresh lime and your favorite cheese.
Serves 8
Ingredients
2 tablespoons olive oil
4 cups sweet potatoes or yams (about 2 large), peeled and diced
1 cup white onion, diced
4 tablespoons garlic, minced
1 jalapeño pepper, diced (leave seeds if spicier flavor is desired)
1 1/2 cups red bell pepper (about 1 large), diced
1/4 cup apple cider vinegar
1 teaspoon dried basil
2 teaspoons cumin
1 teaspoon chili powder
1/2 teaspoon black pepper
1/2 teaspoon kosher salt
2 15-ounce cans diced tomatoes, including juice
1 15-ounce can black beans, rinsed and drained
1 15-ounce can garbanzo beans, rinsed and drained
1/2 cup cilantro, chopped (optional garnish)
2 jalapeño peppers, fresh or pickled, thinly sliced (optional garnish)
1 fresh lime, cut into wedges, (optional garnish)
Directions
In a Dutch oven or deep skillet, heat the oil over medium heat. Sauté sweet potato,
onion, garlic, diced jalapeño pepper and red bell pepper for about 5 minutes.
Add vinegar, basil, cumin, chili powder, black pepper and salt; mix well and continue cooking for about 5 minutes.
Stir in tomatoes and beans; simmer for at least 30 minutes.
Garnish with chopped cilantro, sliced jalapeño peppers and lime juice, as desired.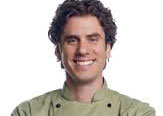 The Chef Marshall O'Brien Group is a dedicated assembly of professionals based in Minneapolis, Minnesota, committed to the goal of using nutrition to get kids and families to lead happier, healthier lives.