By the Chef Marshall O'Brien Group
These fudgy brownies are gooey and flavorful—both kids and adults will love them! They are also a better alternative than prepackaged brownies, since they have more nourishing ingredients like whole wheat flour, beans (but no one will know!) and healthy fat (coconut oil).
Serves 12
Ingredients
1 15-ounce can low-sodium black beans, rinsed and drained
2 tablespoons dark chocolate cocoa powder
1/2 cup quick-cooking oats
1/4 teaspoon kosher salt
1/3 cup unsweetened apple sauce
1/4 cup coconut oil, melted
2 teaspoons vanilla extract
1/2 teaspoon baking powder
1/2 cup frozen cherries, finely chopped (They are easier to chop when frozen.)
1/2 cup dark chocolate chips
Directions
Preheat oven to 350 degrees. Grease an 8x8-inch baking pan.
Combine all ingredients except cherries and chocolate chips in a blender or food processor and blend until very smooth.
Stir chocolate chips and cherries into brownie mix; batter will be thick.
Pour into pan and bake for 25-30 minutes, or until they begin to pull away from edge of pan. The toothpick test will not work because they are so fudgy.
Cool for 10-15 minutes before cutting.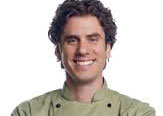 The Chef Marshall O'Brien Group is a dedicated assembly of professionals based in Minneapolis, Minnesota, committed to the goal of using nutrition to get kids and families to lead happier, healthier lives.