Skip the standard turkey sandwich and shake things up this year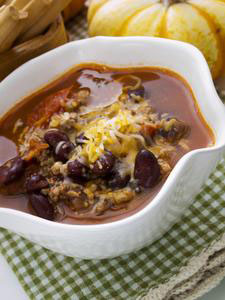 For many, Thanksgiving leftovers can be equally as exciting as the main event. Leftovers can linger for days, but there's no need to keep reheating the same dish again and again.
Whether you're looking to transform your tradition or are just over the idea of another turkey soup/sandwich, we've got you covered with five creative ideas for leftovers.
Bust out the crock pot.
After spending serious kitchen time to prepare the Thanksgiving meal, gather your leftovers and hand over cooking responsibilities to the crock pot. Get the Serious Eats recipes for:
Slow-cooker leftover turkey lemon and couscous soup
Slow-cooker leftover turkey chile verde
Slow-cooker leftover turkey and andouille Gumbo
Go global.
With the American holiday celebration down, use your leftovers to whip up some more worldly flavors from Cooking Light, like:
France: Leftover green bean nicoise
Latin America: Leftover turkey arepas
Mexico: Leftover turkey stew
Spain: Picadillo-stuffed mashed potato balls and leftover sweet potato flan
Vietnam: Roast turkey pho
Hash it out.
Hash combines several leftovers into one encore dish.
Make breakfast.
Whether it's the day after or the weekend after Thanksgiving, leftovers can be a great start to the day.
Switch to salad.
After the turkey day feast, the idea of greens can sound pretty appealing. Combine crisp greens with your leftovers to savor the flavors of the season.