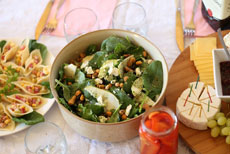 By the Chef Marshall O'Brien Group
This tasty, easy lunch salad is a great combination of crunchy and creamy, peppery and sweet. Placing the dressing on the bottom with the sturdier ingredients keeps the salad from wilting till you're ready to shake it up, transfer to a plate and enjoy!
1 large or 2 smaller servings
Salad Ingredients
1 pear, cored and sliced or 1 cup canned pear wedges (in natural juice), drained
3 cups spinach
1/2 cup radish, sliced
1/4 cup pecans, chopped
1/4 Parmesan or Gorgonzola cheese, shredded or crumbled
Balsamic Vinaigrette Ingredients
2 tablespoons balsamic vinegar
3 tablespoons olive oil
1/8 teaspoon salt, or to taste
1/8 teaspoon black pepper, or to taste
Directions
Combine vinaigrette ingredients and place in bottom of quart Mason jar; add pears. For smaller salads, divide the ingredients between two wide-mouth pint jars.
Add 1 1/2 cups of spinach, layer radishes on top of that and follow with remaining spinach.
Top off with pecans and Parmesan cheese; seal and refrigerate until ready to eat.
To serve tilt and rotate jar to mix vinaigrette, unscrew cap and place salad in serving dish of choice. 
Variation: Pomegranate seeds are a tasty substitute for the radishes.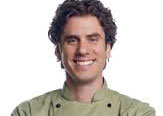 The Chef Marshall O'Brien Group is a dedicated assembly of professionals based in Minneapolis, Minnesota, committed to the goal of using nutrition to get kids and families to lead happier, healthier lives.