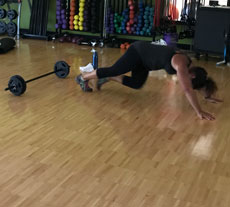 High-intensity interval training packs a powerful punch in just a short amount of time.
High-intensity interval training (HIIT) is an exercise format that alternates periods of short, intense exercises with less-intense recovery periods. HIIT is offered as a Group Exercise class at the Y, which means it's free for members.
Nikki Sykora, group fitness instructor and Personal Trainer at the Hastings Y touts HIIT as, "The best workout." Here's why: the short, intense, total-body workouts improve athletic capacity and condition, glucose metabolism, fat burning—and it's fun.
"If you come to HIIT regularly, you'll boost your metabolism faster than you would see just running on the treadmill," Nikki says.
For optimal results, plan on building in a day a rest between HIIT classes for your muscles to recover. She suggests coming to class every-other day, because, "During class, you get your body pumping with high-intensity exercises that will keep bringing you benefits for up to 24 hours after class—we call this 'afterburn.'" 
What to expect in HIIT class
At the Hastings Y, HIIT classes are 30 minutes, which means you can get an efficient strength and cardio workout done with just a short amount of time. In Nikki's classes, she starts with a warm up to get the blood flowing. The rest of the half hour includes sets of 60 seconds of strength work, followed by 30 seconds of cardio work, done in sets—plus loads of energy and encouragement.
During class, you'll have a chance to use a variety of equipment including:
Your bodyweight
Hand weights
Resistance bands
Gliders
BOSU balance trainers
If you've never tried HIIT before …
If you like R.I.P.P.E.D., HIIT uses a similar combination of cardio and strength exercises. Newbies are always welcome to join HIIT classes.
In preparation for your first HIIT class, consider these tips from Nikki:
HIIT classes by name can be high intensity, however, all fitness levels are welcome—exercises can be modified to match your abilities.
Remember that your first HIIT class is your starting point, and that you're there to focus on your goals (not what everyone else is doing).
During class, pay attention to what your body is feeling—if you need to take a break, just do what you can and re-join the activities when you're ready.
Find a HIIT class at your local Y to give this efficient workout a try.