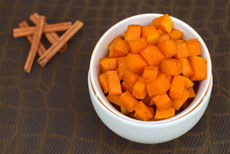 By the Chef Marshall O'Brien Group
Preparing sweet potatoes in a slow cooker is super-easy and leaves your oven free for other things. Making them with cinnamon and pecans is a tasty way to avoid the huge amounts of added sugar in many traditional recipes.
Serves 4-6
Ingredients
4 large sweet potatoes or yams, whole, skin-on
¼ - ½ teaspoon cinnamon
2 tablespoons butter
½ cup pecans, toasted
Directions
Place sweet potatoes/yams in slow cooker and cook on lowest setting, for 6-8 hours or overnight.
Remove from slow cooker, cool until easy to handle and remove skins.
Slice sweet potatoes/yams in half length-wise and place halves in a casserole dish. Spread halves with a little butter and sprinkle with cinnamon and pecans.
Note: May be prepared ahead of time and warmed in the casserole before serving.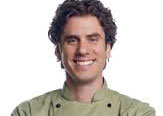 The Chef Marshall O'Brien Group is a dedicated assembly of professionals based in Minneapolis, Minnesota, committed to the goal of using nutrition to get kids and families to lead happier, healthier lives.