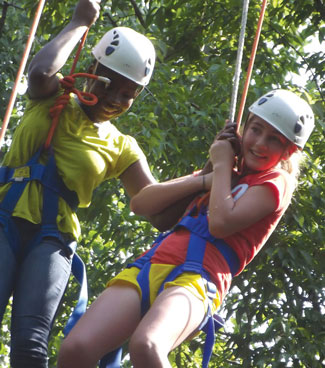 The YMCA of the Greater Twin Cities (YGTC), a leading nonprofit dedicated to strengthening communities through youth development, healthy living and social responsibility, offers camp programs to give children and teens fun and unique experiences where they can explore the outdoors, meet new friends, discover new interests and create memories that last a lifetime.
Summer is the ideal time for children and teens to get up, get out and explore. But, for some children and teens summer means no access to recreational and educational activities to help them learn, grow and thrive during out-of-school time. As a result some children and teens can experience learning loss and gain weight twice as fast than during the school year.

"Children and teen camping programs support the social-emotional, cognitive development and physical well-being of youth," says Todd Tibbits, chief operations officer of the YGTC. "In our Y camps, children and teens are in a welcoming environment where they can belong, build relations, develop character and achieve by discovering their potential."
Tibbits says there are five reasons why children and teens should attend summer camp:
Adventure: Camp is all about a wide variety of fun adventures and new experiences, and especially exploring the outdoors.
Healthy Fun: Camp offers fun, stimulating activities that engage the body and mind, and also help children and teens learn the importance of nutrition to help improve their healthy eating habits.
Personal Growth: While being away from the routine back home or in front of a television or computer screen, children and teens have a chance to learn new skills, and develop confidence and independence by taking on new responsibilities and challenges. Camps offer cognitive learning and social-emotional development opportunities for achievement.
New Friendships: Amidst the fun of camp games, songs, swimming, canoeing and talent shows, campers meet new friends and strengthen existing friendships. The relationships formed at camp are important and lasting for many youth.
Memories: Camp is an unforgettable experience that will give each camper memories (and camp traditions) that will last a lifetime. Youth return to school with plenty of camp stories to share.
In addition, camp teaches children and teens how to be a leader and help others be confident trying new things. Listen to Hope's Story to discover how camp has made a positive impact on her life. 
As a leading nonprofit committed to nurturing the potential of youth, the YGTC has been a leader in providing camp programs for more than 100 years. The YGTC continues to give youth an enriching, safe experience with caring staff and volunteers who model positive values that help build a child or teen's character. There are a variety of camp programs to choose including day camp (Camp Christmas Tree, Camp St. Croix, Camp Guy Robinson, Camp Heritage, Camp Ihduhapi, Camp Kici Yapi, Camp Kumalya, Camp Manitou, Camp Spring Lake and Camp Streefland); overnight camp (Camp St. Croix, Camp Icaghowan, Camp Ihduhapi and Camp Warren); teen wilderness camp (Camp Menogyn and Camp Widjiwagan); and family camp (Camp Du Nord). To ensure that everyone has an opportunity to participate, financial assistance is available to those in need to help cover the costs.

Learn more about the YGTC's camp programs.