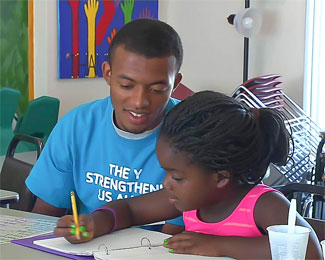 Over 7,800 volunteers from the YMCA of the Greater Twin Cities, a leading nonprofit dedicated to strengthening communities through youth development, healthy living and social responsibility, bring about meaningful, enduring change by giving back to their communities.
Whether developing skills or emotional well-being through education and training, welcoming and connecting diverse demographic populations through global services, or preventing chronic disease and building healthier communities through collaborations with policy makers, Y volunteers help everyone have the opportunity to learn, grow and thrive.
"Volunteering and giving back are critical to helping more individuals and communities be healthy, connected and secure," said Hedy Walls, vice president of social responsibility at the YMCA of the Greater Twin Cities. "At the Y, volunteers help drive our cause of strengthening community by nurturing the potential of youth, improving the nation's health and well-being and supporting our neighbors. The programs and services we offer to people of all ages, incomes and backgrounds are made possible in large part by volunteers who donate their time and talents."
The Y offers individuals and families opportunities to volunteer in ways that let them connect and develop meaningful relationships, all while making an impact in communities they care about. Some of these opportunities for people to take an active volunteer role at the Y and serve the community include:
Joining a special committee that matches their skills or interests.
Coaching a sports team, teaching a class or asking about other ways to get involved with a program of interest.
Helping with fundraising efforts to ensure that essential programs and services are accessible to everyone in need.
Getting involved with a mentoring or tutoring program to help motivate and encourage youth to reach their potential.
Inspiring others to find ways they too can give back to the community.
Listen to Demetria's Story and discover how she is leading a team of University of Minnesota student volunteers who are making a positive impact by providing academic and social support to youth in the community.
Hear about Dave's Story and learn more about the vital role he has as a fitness and ForeverWell volunteer at the St. Paul Eastside YMCA branch.
Find out about Stacy's Story and how she received support from the YMCA and its volunteers and now is giving back as an employee working in the Y's Youth Intervention Services program.
Y Give Day
Along with volunteering, Y Give Day on Monday, February 23, offers people the opportunity to support the community by making a donation. People can text YGIVE to 41444 and easily make a donation to help strengthen programming and services in their community.
Learn more about volunteer opportunities and ways to support the Y's programs in the community.