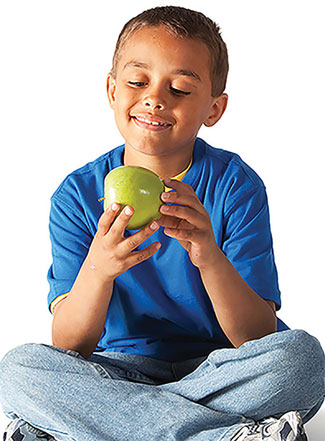 The YMCA of the Greater Twin Cities, a leading nonprofit dedicated to strengthening communities through youth development, healthy living and social responsibility, helps kids learn healthy habits to be more physically active, eat better and have fun doing it.
Childhood obesity is a growing problem in the United States. More than one third of children and teenagers ages two to 19 are obese or overweight, and that rate has tripled in the past 30 years. Childhood obesity can have a harmful effect on the body in several ways, putting children at high risk to develop cardiovascular disease, diabetes, sleep apnea, asthma, joint problems, heartburn, and social and psychological problems.
"Kids are learning habits to sit a lot and to have a lot of screen time and that's taking them away from the physical activity that they need," said Jennifer Menk, senior director of fitness at the YMCA. "There's also a lot of convenience to unhealthy foods and kids need to be making healthier food choices that are not always readily available."
Menk added that the Y provides a lot of resources to help kids and families from personal training to group exercise, from camps to sports leagues, and from nutrition courses to swimming classes. She said that all of these activities can help kids have more healthy eating and physical activity – and tip the scale in the right direction. Find out about Thea's Story and discover how she is having fun and becoming stronger through exercise.
According to the Minnesota Department of Health, the obesity epidemic appears in both boys and girls and among all racial and ethnic groups. National data demonstrates that certain groups, including Hispanics, non-Hispanic Blacks, native Americans and individuals in low socioeconomic groups, are particularly affected by obesity and disparities appear to be growing over time.
The YMCA recognizes there is a wide spectrum of how kids are responding to the environment today. Menk explained that some kids are not weighing enough, not eating enough or having distorted body images. The Y, along with a child's physician and medical advisors, can help the youth get the support needed and provide the right resources. Hear about Bailey's Story and learn how she has become a stronger and healthier athlete by changing her nutrition and exercise habits.
Camp Healthy U
Camp Healthy U is designed for kids ages 10 to 14 who struggle with extra weight (BMI>85th percentile for age and gender). At Camp Healthy U, kids will learn to take control and begin to form healthy life habits including eating well and getting active. Along with experienced camp counselors, the YMCA camp team includes specialists from the University of Minnesota Masonic Children's Hospital Weight Management program. Camp Healthy U is June 14-19 at YMCA Camp Ihduhapi in Loretto, MN.

Learn more about healthy kids programs and services.