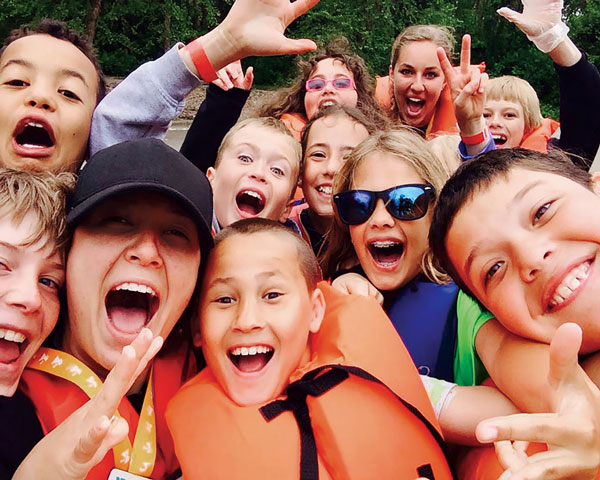 The YMCA of the Greater Twin Cities (YGTC), a leading nonprofit dedicated to strengthening communities through youth development, healthy living and social responsibility, offers camp programs for kids to get an enriching, learning experience and help them get more out of summer break – more friends, more accomplishments and more belonging.
Through a mix of fun and educational activities aimed at improving well-being, kids will experience new adventures, learn and master new skills, and share and trade interests with friends, exchanging plenty of high-fives along the way.
"With school out during the summer, many kids don't get enough physical activity or learning – a critical gap the Y is addressing," said Tom Kranz, vice president of Y camp programs. "In our camp programs, kids are in a safe environment with nurturing adults where they feel welcome, develop character and explore new talents and interests to reach their potential.  We want to ensure that kids in our camp program go home with so much excitement for all they accomplished and enjoyed that they can't wait to come back the next day."
The Y's camp activities focus on impacting the social-emotional, cognitive and physical development of all kids.  Discover how Brooke and Riley learned to be outdoors and try everything despite having asthma. Brooke and Riley's Story
When kids are out of school, they face hurdles that prevent them from reaching their full potential, related to hunger, water safety, academics, safe spaces to play, and health.  Through summer camp and other youth development programs, the Y helps youth achieve more, providing a safe place to learn, stay healthy and build friendships.
For more than 100 years, the YGTC camps have offered youth an enriching, safe experience with caring staff and volunteers who model positive values that help build a child or teen's character. There are a variety of camp programs to choose including day camp (Camp Christmas Tree, Camp St. Croix, Camp Guy Robinson, Camp Heritage, Camp Ihduhapi, Camp Kici Yapi, Camp Kumalya, Camp Manitou, Camp Spring Lake and Camp Streefland); overnight camp (Camp St. Croix, Camp Icaghowan, Camp Ihduhapi and Camp Warren); teen wilderness camp (Camp Menogyn and Camp Widjiwagan); and family camp (Camp Du Nord).
To ensure that everyone has an opportunity to participate, financial assistance is available to those in need to help cover the costs.  Listen to Devon, Jade and Monet's story that highlights how the support they received offered them an opportunity to have meaningful outdoor experiences. Devon, Jade and Monet's Story