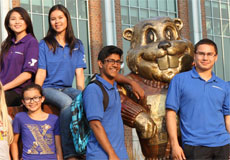 I believe mentoring is one of the most critical elements of not only youth development but development as an adult. I tell Y team members that finding an internal and external mentor is key to growing in their career and life. Start identifying the folks you want to emulate and ask them to take you under their wing.
People are inclined to say yes.
I attribute my ability to keep up with the demands and expectations of my job to the mentors in my life, who have supported me and provided me wisdom. For instance, even in limited time together, I have learned so much from our Y board of directors.
But one great mentor of mine is Dave Murphy, the retired CEO of Red Wing Shoes. We were initially introduced in a business context, but I was thoroughly impressed with his spirit and moral compass, so I asked him if he would meet me on Saturday mornings for a run around Lake Harriet.
He said yes.
It provided me a chance to ask him questions about faith, family, work, career and marketing, which happened to be particular strengths of his.
We did that for two or three years. Those runs helped me understand that you could be focused on the right things and still pursue upward mobility in the business world.
Curious, I asked Dave what he recalled about our runs.
"You would practically be walking while I'm running," Dave said. "You're talking normally, and I'm trying to make little comments between huffing and puffing and not trying to go into cardiac arrest."
"But that time was a battery charger for me. I clearly got more out of it than you did."
Mentoring is essential to the Y. We're working one-to-one, or in small groups, to help students see what's possible. Many of the University of Minnesota students who are engaged in our mentoring program are first-generation college students. I think we take for granted what that means. That student might not have any social context or support to be successful in college. It may mean not having access to some tools that students from a more privileged background do. Their own computer? Internet access? Adult mentors, who can put college and its demands into perspective?
For those of us who were blessed to have those examples, it appears there is a lack of support for many, many youth today.
The Y Mentors program at the University Y grooming University of Minnesota students then pairing them with students coming behind them is such a rich idea. And we know that mentoring programs like this make it infinitely more likely that the younger students not only get into college but graduate from college.
College students often experience loneliness and fatigue, and they often experience periods of overwhelming doubt and ask themselves, "Do I belong here?"
If you come in isolated, with no one at home who can understand what the value of a college education really is, that can be quite daunting.
There is mutual value to these University of Minnesota students being able to to come in, mentor our youth and hold their hand and help mainstream their college experience. That mentee is being pulled along but that mentor is learning some huge life lessons about humility, leadership and being vulnerable.
They won't have all the answers, but they'll have some.
A Y Mentors site lead mentioned how some students were shy at first but have opened up a lot.
"They're so much fun," Ryan McMahon said, "plus I feel we're actually making a difference in their lives. We've grown relationships with them."
But it goes, as my mentor Dave Murphy noted, both ways. The mentee and mentor both benefit and grow from the experience.
In all his humility and transparency, Dave's wisdom blessed my life. Who is blessing yours? If you have trouble answering this question, run out and find a mentor or mentee. You will both be better for it.