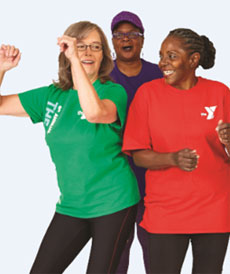 Ten thousand people a day become eligible for Medicare. Experts project the aging population to grow by 57 percent to roughly 120 million by 2040.
According to the CDC, nearly 30 percent of adults ages 65 and older in Minnesota reported having no leisure time physical activity in the past month.
The CDC also reported that nearly 10 percent of adults ages 65 and older reported increased confusion or memory loss that had worsened in the previous 12 months.
The percentage of older Minnesotans who report having a disability increases from 20 percent among those ages 50-54 to 32 percent among those ages 65 and older.
The YMCA of the Greater Twin Cities, a leading nonprofit dedicated to strengthening communities through youth development, healthy living and social responsibility, addresses the needs of the growing aging population with health and wellness programs focused on physical activity, wellness and social interaction.
As adults age and chronic disease rates increase, physical activity decreases. In addition, nearly 10 percent of adults ages 65 and older report increased confusion or memory loss that has worsened in the past 12 months. The YMCA addresses all aspects of wellness and helps older adults stay active physically, mentally and socially.
"The Y offers health and wellness programming tailored to seniors at every fitness level," said Glen Gunderson, president and CEO of the Y. "Our goal is to help every one of our ForeverWell participants live a healthy, connected and fulfilling life."
Gunderson adds that connecting with the community at the Y helps aging adults stay mentally and emotionally healthy. Each Y location offers a variety of opportunities to connect to the community through educational and enrichment programs, volunteering, day trips and more.
ForeverWell Thrive Awards
At the 12th annual Gathering, one of the state's largest and fastest growing annual events for active older adults, Y members were celebrated for their commitment to healthy living. The Thrive Awards recognize YMCA members who:
Reveal the impact of exercise on overall health and wellness
Volunteer regularly within the community
Model and embrace inclusion, compassion and diversity
Strengthen others
Prove perseverance in some area of their life
Discover how 100-year-old Ginger stays healthy and engaged at the YMCA – Ginger's Story.
Learn how Frank and his wife have connected to their community by giving of their time and talents – Frank's Story.
See how Lolita has made an impact on her Y by bringing the community together after just a few months of membership – Lolita's Story.
The Y participates in the Silver&Fit and SilverSneakers® programs for Medicare-age members and encourages people to check with their insurance provider to determine if they are eligible. Health and fitness offerings for seniors include cardio classes like Zumba Gold and line dancing, group cycling, circuit training, water exercise classes, yoga, walking clubs, recreational activities like pickleball and chair-based classes to build strength.
As a leading nonprofit committed to helping seniors thrive, financial assistance is available to those in need to ensure everyone has the opportunity to participate.