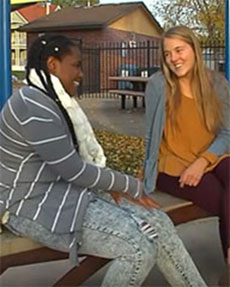 According to Wilder Research, on any given night in Minnesota, over 6,000 youth are homeless with less than 100 youth shelter beds available.
Nine out of 10 homeless youth had experienced at least one adverse childhood experience.
Homeless youth are least likely to use shelters and the majority are long-term homeless.
The YMCA of the Greater Twin Cities, a leading nonprofit dedicated to strengthening communities through youth development, healthy living and social responsibility, collaborates with community partners on the new Minor Connect pilot program to create a dynamic response to assist youth ages 15-17 who are at risk of or experiencing homelessness or whose housing situation creates the potential for significant harm.
Youth on their own make up 16 percent of the total homeless population in the state of Minnesota and there is a need to stabilize and support them in the transition to adulthood. The YMCA along with the Minnesota Department of Human Services, Hennepin County Human Services, The Link and The Youth Law Project have developed an innovative model that provides a better way for youth to help them find a way home. Minor Connect program services include: an individual needs assessment, family group decision making, youth in transition conferencing, efforts to connect and reunify families, and connections to housing options.
"Along with our great community partners, the Y works with youth to identify challenges and goals," said Glen Gunderson, president and CEO for the Y. "The Y meets young people where they are and builds capacity with them to overcome barriers, achieve self-sufficiency and thrive."
Gunderson added that along with the Minor Connect program, the Y team offers additional programs and services that support youth facing barriers including:
Youth Resource Line is a free resource line for youth and young adults 12-24 who are in need of community resources. YMCA Life Coaches offer referrals to YMCA and community resources based on the young person's needs. Call 763-493-3052 and leave a message to get connected. 
School, Street and Community-Based Outreach Services provides a connection to YMCA staff who travel to meet youth where they are at and provide short-term life coaching, housing assessments and connections to resources and basic needs.  
Prevention Resources aim to prevent homelessness through life coaching, mediation, family reunification, eviction prevention assistance and connection to other community resources. 
Communities Host Home: The Communities Host Home Program bridges the gap between concerned community members and our homeless youth and young adults. Members of the community volunteer to host young people experiencing homelessness. The Y provides life coaching for youth and support for hosts to facilitate transitions, minimize barriers and ensure that youth's goals are set and achieved. For information on becoming a Host Home, contact hosthomes@ymcamn.org.
Young Parenting Program: The YMCA provides community-based independent housing and life coaching to young adult parents (and their children) as well as support of the Nurturing Parenting Curriculum and early childhood resources. 
Independent Housing Program works to support young adults experiencing homelessness with independence and stability. Young people continue to receive life coaching services after they are settled into their own apartment, and are supported to set and achieve their life goals. 
Youth Food Shelves are staffed by outreach team members who can assist young people who are homeless or at risk of homelessness with food resources and other basic needs, and connection to longer-term services.
Learn about the Minor Connect program that is offering tailored, ongoing housing and supportive services for youth at risk of or experiencing homelessness – YMCA Minor Connect, Helping Youth Find Their Way Home 
Discover how Jasmine has received support and stability from a host family – YMCA Jasmine's Story
YMCA Youth Intervention Services offers many additional programs to meet the needs of youth experiencing homelessness, involvement with the juvenile justice or foster care systems, or who are disconnected from their school or community. Among these services is the Youth Resource Line, a free resource available 365 days a year by Y life coaches to assist youth ages 12 to 24 who are in need of community resources: 763-493-3052.
Because the Y is a leading nonprofit committed to helping all young people thrive, financial assistance is available to those in need. With the generous support of community members, the Y ensures that all have the opportunity to participate. To Learn more about the Y's Youth Intervention Services and other youth development programs, please visit ymcamn.org.