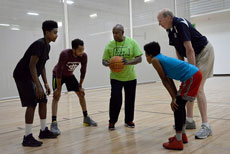 Studies show volunteerism improves overall health by strengthening the body, improving mood and lessening stress in participants.
Research shows young people who have a mentor are more likely to attend college and hold leadership positions.
Volunteerism develops leadership skills useful in a work environment such as flexibility, problem solving and initiative.
The YMCA of the Greater Twin Cities, a leading nonprofit dedicated to strengthening communities through youth development, healthy living and social responsibility, serves the community with the support of more than 7,300 volunteers and mentors who give their time and talent so all can thrive.
These Y volunteers bring about meaningful, enduring change by ensuring YMCA programs and services are available to people of all ages, incomes and backgrounds.
"At the YMCA, volunteers are making an impact in the lives of other human beings every day," said Glen Gunderson, president and CEO for the Y. "Their selfless act of volunteering can and does single-handedly change the course of someone's life. It might be as small as checking someone in at the front desk or as big as mentoring a child until they graduate."
Gunderson added that the Y offers individual and group opportunities to volunteer in ways that let them connect and develop meaningful relationships, all while making an impact in their local community. Some of these opportunities for people to take an active volunteer role at the Y and serve the community include:
Joining or leading a board or special committee that matches their skills or interests.
Coaching a sports team, teaching a class or asking about other ways to get involved with a program of interest.
Extending a hand to help adults who want to do more, be more or live healthier.
Getting involved with a mentoring or tutoring program to help motivate and encourage youth to reach their potential.
Welcoming newcomers or young people transitioning from homelessness or system involvement who need help setting up their new home.
Helping with fundraising efforts to ensure that essential programs and services are accessible to everyone in need.
Inspiring others to find ways they too can give back to the community.
Learn about a variety of volunteer opportunities for individuals and groups that help all to thrive in the community – YMCA Volunteers Strengthen Local Communities  
Discover how T-Mobile volunteers made a difference with youth at a local YMCA Neighborhood Center –  Volunteer Together to Support the Community
To learn more about volunteer opportunities including individual and groups, and ways to support the Y's programs in the community, please contact volunteer@ymcamn.org.
Because the Y is a leading nonprofit committed to helping all thrive, financial assistance is available to those in need. With the generous support of community members, the Y ensures that all have the opportunity to participate.