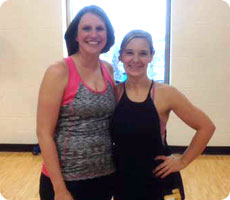 I came to my first Turbo class at the Y in Burnsville back in 2007. My first class was really hard, I was completely lost. I was in the FRONT ROW, and Jennie (Berglund) was kind of scary. However, I really liked it, and kept coming. Then I found out I was pregnant and just stopped working out (completely what I shouldn't have done – 65 lbs. gained!) 

After I had my son in 2008, I yo-yo'ed with the Y over the next few years. I'd keep working up my "nerve" to come back to Turbo. However, "things" kept getting in the way: work, money, it's summer -I should be outside, it's winter – it's too cold to go outside. You name it; I used it as an excuse to quit coming to the Y and quit working out entirely. 

In October 2011, I started getting really bad migraine headaches. No medications worked. My doctors said my triggers were stress and caffeine. I gave up Diet Coke and needed to find a way to reduce my stress. Great. I have a busy, stressful job, a toddler, and hardly any time to myself, and now I have health issues that no doctor can seem to fix.

In April of 2012 – I decided that I had to MAKE time for myself or I was going to make myself crazy (and sick) so, it was back to the Y. I was determined I was going to stick it out this time. I'd get my "me" time, even if it was only on the treadmill, but I quickly got bored so it was time for classes.

I was beginning to get a kick out of working out again, So, I got my nerve up, to come back to Turbo, and Jennie. That first class back was hard. I was lost, dripping sweat, and felt like an idiot. But I made it through that class, and the next and the next. I have since become a Turbo junkie -- and RIPPED and Tabata. (Though still not the first row) 

Not only has working out helped reduce my stress level, it's made me a happier person. I've lost 30 pounds. I feel better about myself. I hardly ever get migraines. And I've made friends in the classes which make it that much more fun.

I've overheard people say they'd like to try Turbo but it's "too hard" or "too scary" or the best one…"too fast". I always tell them that it is hard at first - not that it ever gets easy exactly – but you pick up on the moves. But it's FUN. And it works. And who knows? Maybe one of these days, I'll be brave enough to be back in the front row!