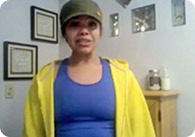 Blaisdell member, Sherry Durrah, is an inspiration to us all. Less than two years ago, she was overweight, out of shape and tired of dieting and failing. She decided it was way time for a new approach.

She changed her goal from just losing weight to better health. And that change in mindset helped her make the changes in her body she wanted.

In December of 2011, she committed to a running plan. Every other day, no matter what. This "Couch to 5K" plan uses intervals to build endurance over 9 weeks. If she stuck to it, she'd be able to run a 5K.

The first run started with promise. 30 seconds of running with a minute of walking. The first interval went okay. But on the second 30 second run, Sherry thought she "was gonna die." But she kept going.

She stuck to the program. She ran every other day. She switched jobs. She raised her daughter. But she made it work. And she kept on running. Then, on Valentine's Day, 2012, Sherry ran her first 5K.

Her time was 41:37. She weighed 271 pounds. She proved plus-sized women can run. Because it's not about your size. It's about how bad you want it. And she wanted it – bad.

Nothing slowed her down. Not even vacations. She started calling herself a runner. And the weight started to drop. She knew it was time to mix things up.

So in addition to running, Sherry started doing Jillain Michaels DVD's at home. Sometimes her little daughter did them with her. And Sherry kept getting stronger.

Then in April of 2012, Sherry joined the Y. She was down 30 pounds, and on a mission. Now running and Jillian were joined by Spinning.

During this time, Sherry sought inspiration by seeking out other success stories. She learned about a local woman who had lost 100 pounds, slowly and naturally. Not by eating less. But by eating smarter and healthier. And working out 6 days a week. She looked and felt fabulous.

So Sherry started eating better, and varying her workouts even more.

She started hitting the weight machines, but didn't feel confident. So she got a free fitness assessment from Joe, a Certified Personal Trainer at the Y. They talked about her goals, her questions (she had tons) and made a plan. Joe showed her how to use free weights. Taught her that free weights don't just make you strong. They make you balanced. And building muscle raises your metabolism, and that's a good thing.

Sherry had a busy life, so she learned how to make the most of the time she had. Joe showed her H.I.T. workouts. High Intensity Training. Super hard, short intervals, which make for an excellent workout when you don't have much time to spare.

She found a program that worked. Lift 3-4 times a week. Cardio2-3 times a week. One day of yoga. And of course, family time. Keep it fun.

Sherry never makes excuses. She makes the time. She gets creative when time is sparse. But she always fits something in. And you know what? It works.

See Sherry talk about her journey here.