Enjoy your summer travels minus the guilty pit stop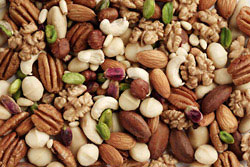 Summer is the perfect time to head out on a road trip—often packed with adventure, fun and terrible-for-you fast food eats.
Freshen up your freeway routine with a little advance planning to enjoy better-for-you snacks when you're on the road this summer. Some good guidelines to follow include foods that:
Are tasty and healthy
Can be eaten without dishes and utensils
Fit into a travel-sized cooler
Won't make a mess in the car
Fruit
Fresh berries and grapes are naturally snack-sized and are easily portable—the same goes for dried fruits. Pack no-prep fruits that are easy to take on-the-go like apples and bananas. And don't forget some extra plastic baggies to store apple cores and banana peels until you make a pit stop.
Grains
Mix up your own trail mix so that you can control the amount of sugar and salt. Check out 10 recipes for healthier kid-friendly trail mixes from Cooking Light. Or whip up your own granola, as a snackable dry cereal or bar.
Hard-boiled eggs
For on-the-road enjoyment, hard boil and peel eggs before you leave. They're a great source of protein that can help you feel full longer. Try this recipe for perfect hard-boiled eggs.
Low-fat cheese
Choose part-skim individually wrapped string cheese, or cube up your favorite low-fat block cheese for the car. Dip pre-cut and washed veggies like cucumber slices, snap peas or cherry tomatoes in a low-fat spreadable cheese (think cream cheese or The Laughing Cow wedges).
Nuts and seeds
A good combination of healthy fats and protein, nuts and seeds can be great snacks on the road if you keep the portions reasonable and watch the sodium levels. Get the nutritional skinny with this infographic on snack-worthy seeds and nuts.
Although most of these options are intended to be mess-free, it's still a good idea to pack some paper towels or wet napkins in a plastic baggie for easy clean up post-snacking. Happy and healthy travels!