Keep your spirit warm and bright throughout the holiday season with fun activities at the Y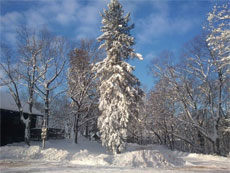 From festive family photo ops and historical tours to potlucks and pancake breakfasts, you'll find plenty of ways for all ages to fill December with holiday cheer at the YMCA.
Cookies with Santa
9-11:30am Saturday, December 12
Open to the public
Free
Breakfast with Santa
9-11am Saturday, December 5
Open to the public
Tickets $3 per person
Register at Member Services
For more info, contact Stephen Anderson
ForeverWell Holiday Lunch
12-1:30pm Wednesday, December 16
For ForeverWell members and their guests
Tickets $10 for Y members, $12 for Y guests
Musical entertainment by Debbie Jackson
Choice of lasagna or sandwich from Davanni's
Bring a treat to share
Register at Member Services
For more info contact Gabriela Kaiser at 952-435-9019
Breakfast with Santa Community Event
9am – Noon Saturday, December 12
Pancake Breakfast, Holiday Crafts, Time with Santa and more!
Don't forget to bring your camera.
Adults $6
Children $4
Pay at the door - no registration required.
Breakfast with Santa
9-11am Saturday, December 5
Open to the public
Tickets:

Adults $5 in advance, $6 at the door
Kids ages four through 12 $3 in advance, $4 at the door
Kids ages three and under are free

Bring a food shelf and/or toy donation
For more info contact Shannon Reierson
ForeverWell Holiday Party
12-2pm Wednesday, December 16
For ForeverWell members
Come for the potluck, join in the white elephant gift exchange, play games and enjoy lots of giveaways
Please bring a dish to pass and a small gift item if you'd like to participate in the gift exchange
Free
For more info contact Tina Scott
Cookies and Crafts with Santa
6-7:30pm Friday, December 4
Open to the public
Free
Decorate a cookie, try a craft, write a letter to Santa and take a picture of your holiday handiwork
For more info contact Anna Denis
Christmas Eve Worship at the Y
1pm Thursday, December 24
Open to the public—all ages and faiths are welcome
Free
Family-friendly Christian worship service, with childcare available at Kids Stuff
For more info contact info@thewhychurch.org or call 763-230-2814
Holiday Celebration with Santa
3-5pm Saturday, December 5
Open to the public
Free
Global Holiday Celebration
12-2:30pm Saturday, December 12
Open to the public
Free
Celebrate a variety of global holiday traditions while getting a glimpse into the vibrant cultures that share our community. You'll receive your very own "passport" for a journey through delicious ethnic dishes, games, crafts and performances.
For more info contact Kim Dean or Anibal Gil
Breakfast With Santa
8am-12pm Saturday Dec 12th
Open to the public
$5 for breakfast, additional $5 to add sleigh ride per person
2 and under are free
Breakfast, picture with Santa, book sale, and sleigh ride
For more info call 952-230-9622
Kiwanis Santa Breakfast
7am to 1pm Sunday, December 6
Open to the public
Tickets:

Adults $6
Kids ages four to 12 $3
Kids ages three and under are free

Enjoy breakfast while capturing unforgettable moments of your kids with Santa. Kiwanis members will be available to take and print photos for $5, or take your own pictures (no charge).
For more info contact Teri Grube
A Grand Christmas: Tour the James J. Hill Mansion and Alexander Ramsey House
9:45am to 3pm Thursday, December 10
Meet at the Thompson Park Activity Center, 1200 Stassen Lane, West St. Paul
Open to the public
First stop on the tour is the James J. Hill Mansion—lunch will follow at Tavern on Grand. After lunch, visitors will go to the Alexander Ramsey House, followed by the Carriage House Gift Store.
Tickets $72
Call 651-403-8300 to register, and be sure to specify your lunch choice:

Battered and deep-fried walleye fillet cut into pieces and served with seasoned Tavern fries, cole slaw, beverage and ice cream
Grilled chicken breast, seasoned Tavern fries, cole slaw, beverage and ice cream
Family Night—Santa's Workshop
3-5pm Sunday, December 20
Open to the public
Tickets $5 per child ($15 maximum per family)
Kids get to play elf for a day at Santa's Workshop as they make gifts for parents or grandparents. They can even wrap their creations themselves—gift-wrap is included
For more info contact Laura Day or Teri Grube
Pancakes with Santa
11am to 1pm Sunday, December 13
Open to the public
Free
Chat with Santa over a stack of pancakes, take pictures and work on kids crafts