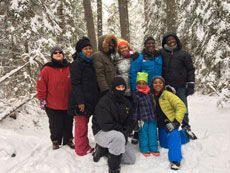 It was a great time building community. The most popular activity was definitely the sledding hill. Kids and adults alike spent most of their downtime hustling over to the hill to glide down the ice or watch their family and friends do the same.

The Night Hike was also a highlight, one mother shared about how amazing it was to have complete silence and peace, something she never can find at home. Others were equally transfixed by the fantastic view of snowy pines and stillness, remarking on the serenity they felt on top of Old Baldy.

We are looking forward to continuing our relationship with these families, the Loppet Foundation, and the Cultural Wellness Center.